After a thankfully brief stay in freezing Reykjavík, my mum and I were picked up one early morning by our Arctic Adventures tour guide. This three-day guided group tour would take us to sights along the south coast of Iceland, and – most importantly – we were hoping to also explore an ice cave.
Tour vs. Self-Drive
First let me lay out my thoughts on a guided group tour vs. self-drive in Iceland. Tours are expensive, and renting a car would have been much cheaper. You're also stuck to the itinerary of the tour and you can't stray off the beaten path.
However, the reason we chose to book a tour for this trip was mainly due to the unpredictable weather in winter. Luckily we did, because there was such a bad storm we would've had difficulty driving ourselves. Additionally, we knew we wanted visit an ice cave. You can't visit an ice cave on your own so we would have had to book a short tour anyways.
Secretly, I liked the comfort of not having to plan every last detail of this short trip as well, sometimes it's nice to just sit in the backseat.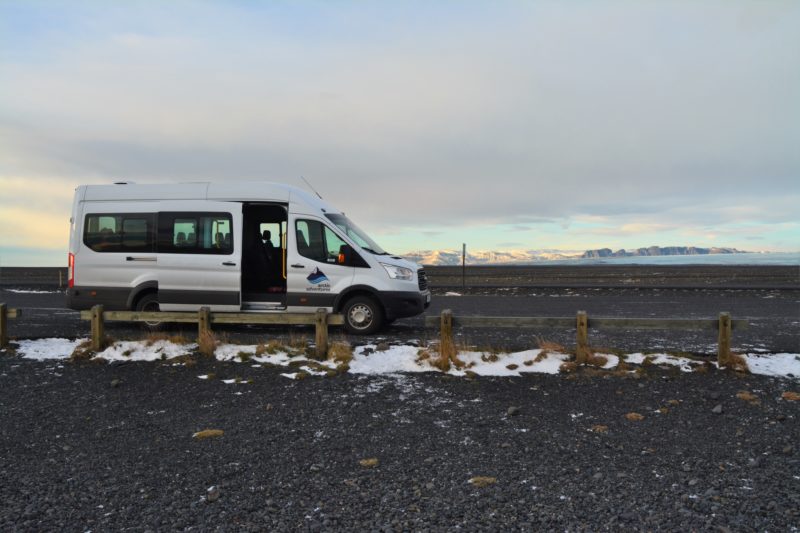 Day 1: Golden Circle
Day 1 of the tour was all about the Golden Circle and again the coldness played a big part. All day enormously strong winds were trying to batter us down, but this time we were having none of it. The freezing temperatures ruined Reykjavík for us, but we weren't going to let them ruin the other sights of the country.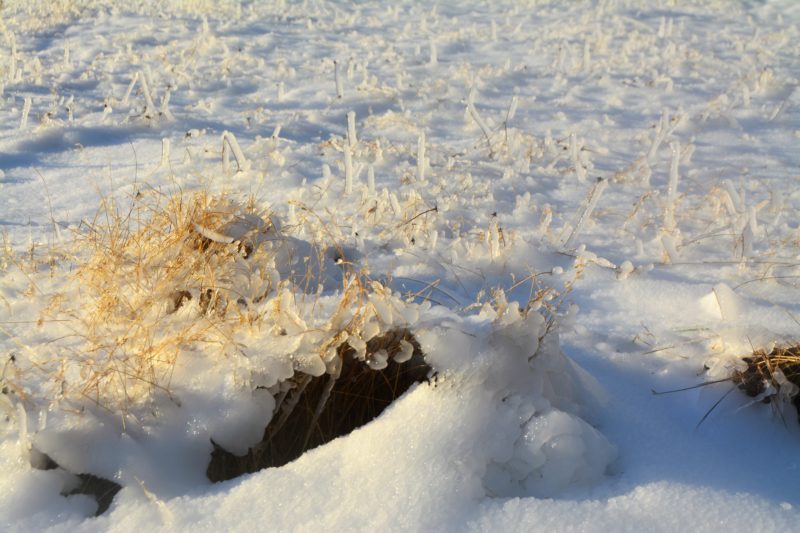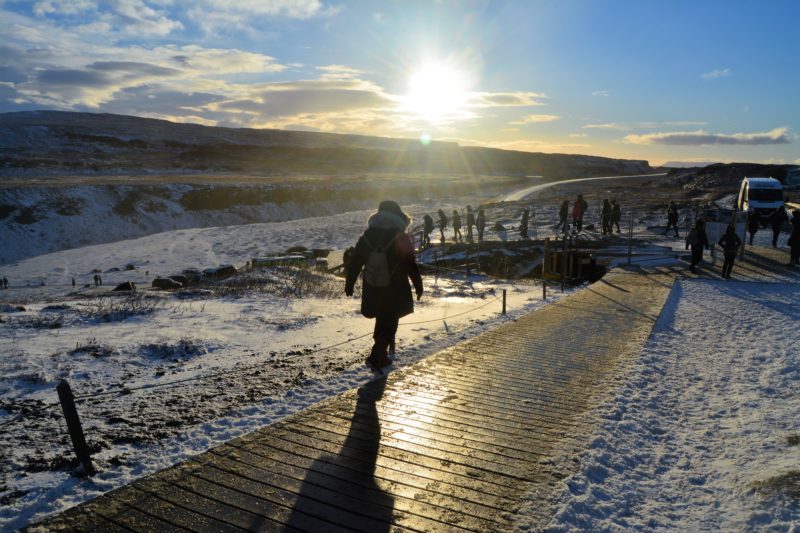 The first stop was Thingvellir National park, a UNESCO Heritage listed site. At this quite distant site, Icelanders founded their parliament in the year 930, making this the world's oldest running parliament.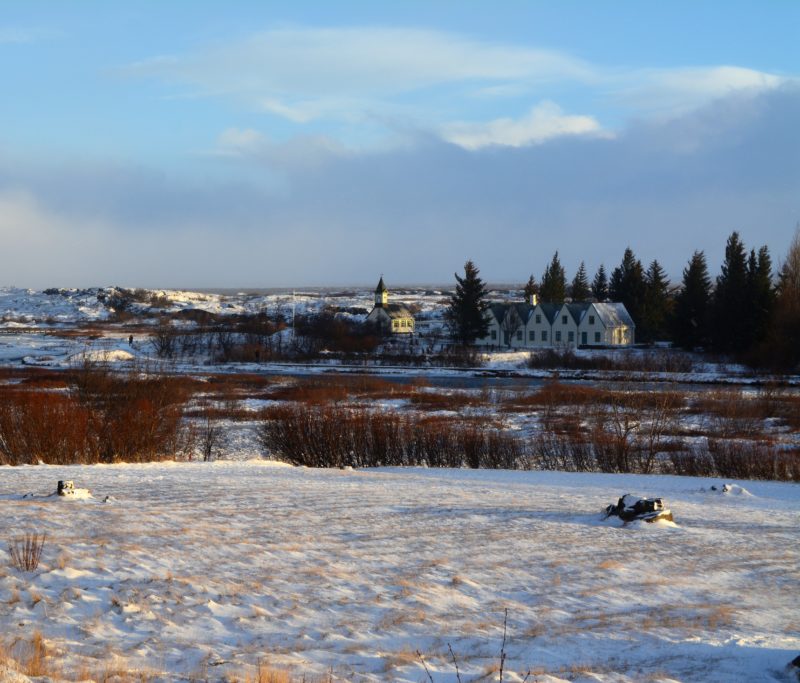 It's also the place where the Eurasian and North American tectonic plate meet. You might have read blogs about people going diving and snorkelling between the tectonic plates in Silfra. That's also part of Thingvellir NP.
We simply crossed the rift and enjoyed the view over the icy landscape.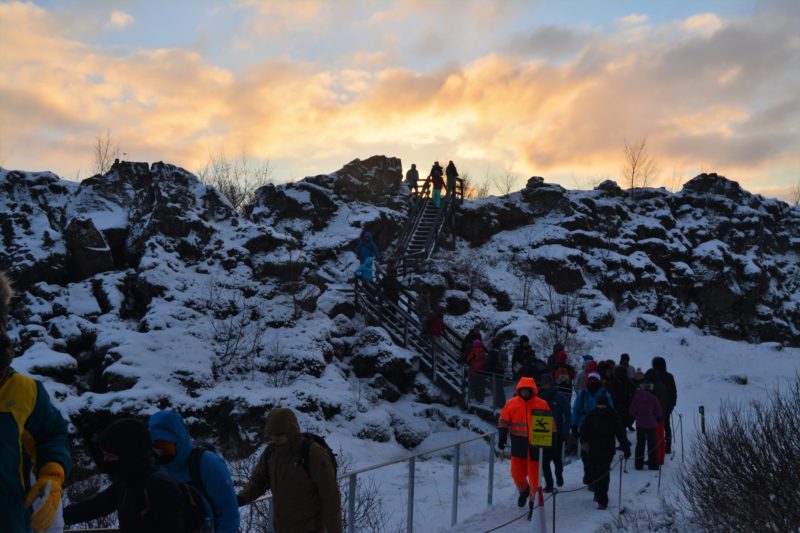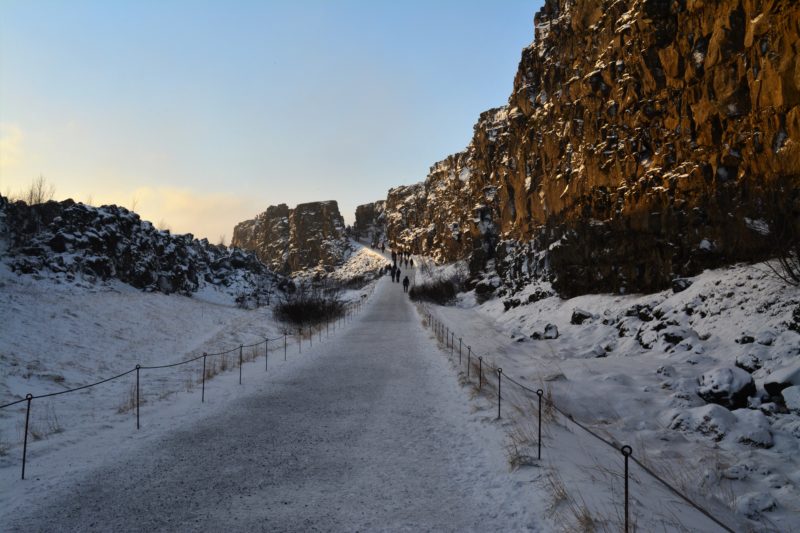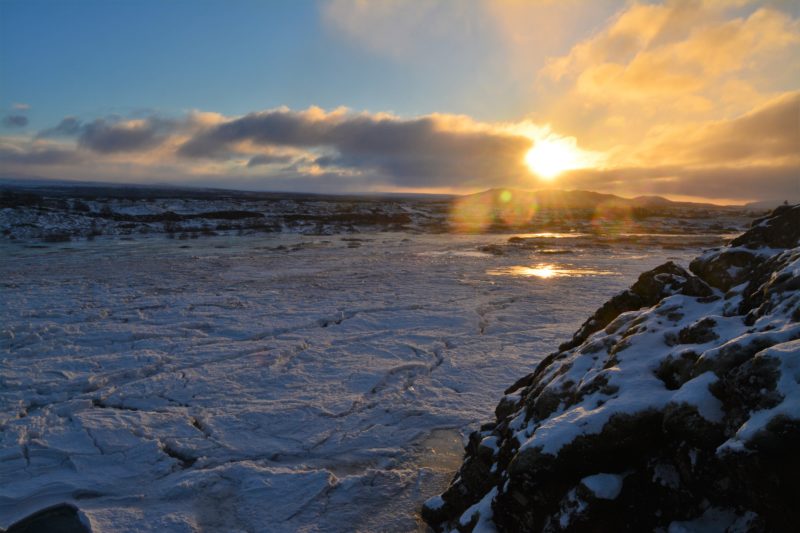 We also went a bit dark by visiting what could be consired the "drowning pool" of Iceland. In the past, women were drowned at this sight for what we would now call slight misdemeanours.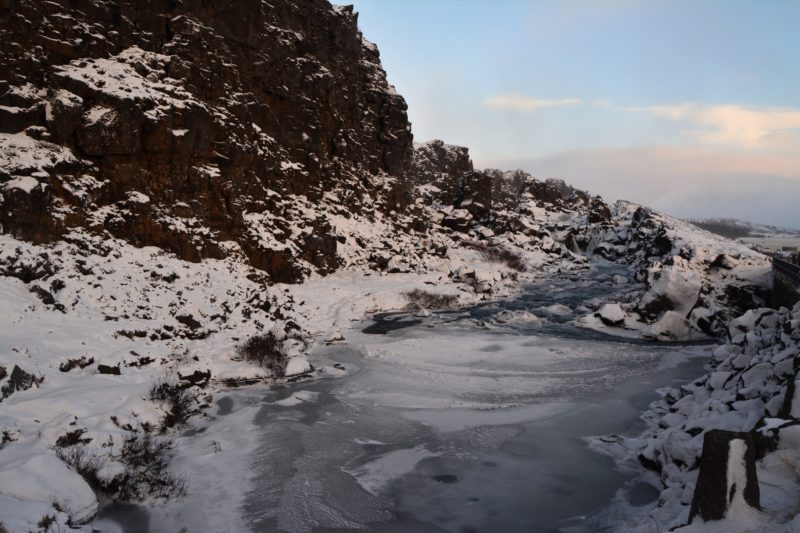 The next stop at the Golden Circle is Geysir. More specifically, Strokkur. Geysir has been dormant for years, but Strokkus is still spouting water and steam every 5-8 minutes. Trying to take a picture on time, without having your hands freeze off is quite a challenge. I didn't quite manage to take a picture at the peak, but my pictures turned out OK regardless.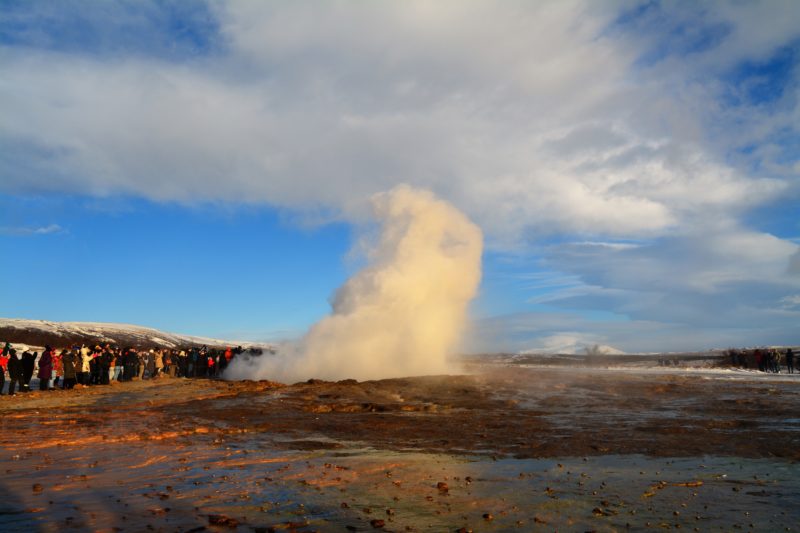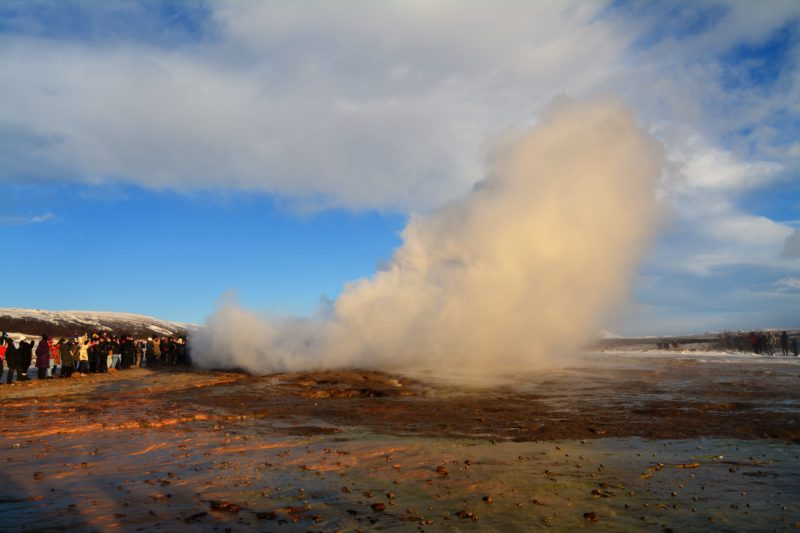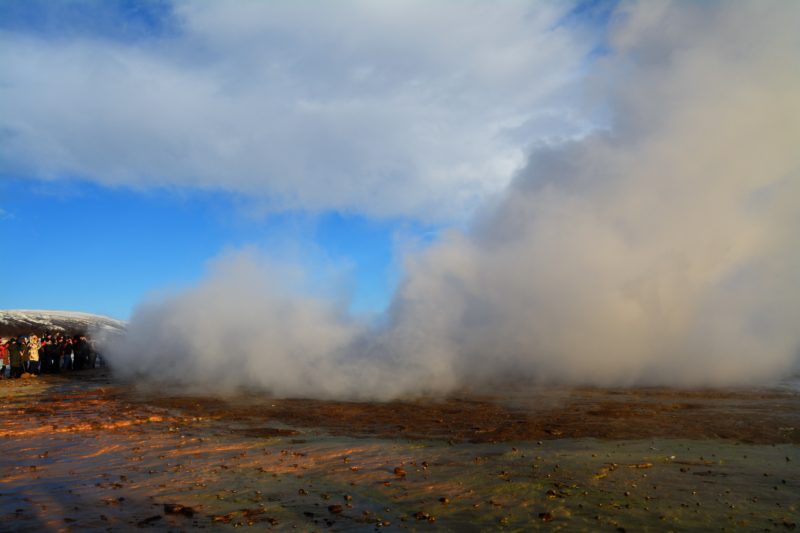 The whole Geysir landscape looks quite surreal. Strokkur is not the only geyser. There are plenty of other small ones dotted around the area, which continously give off steam.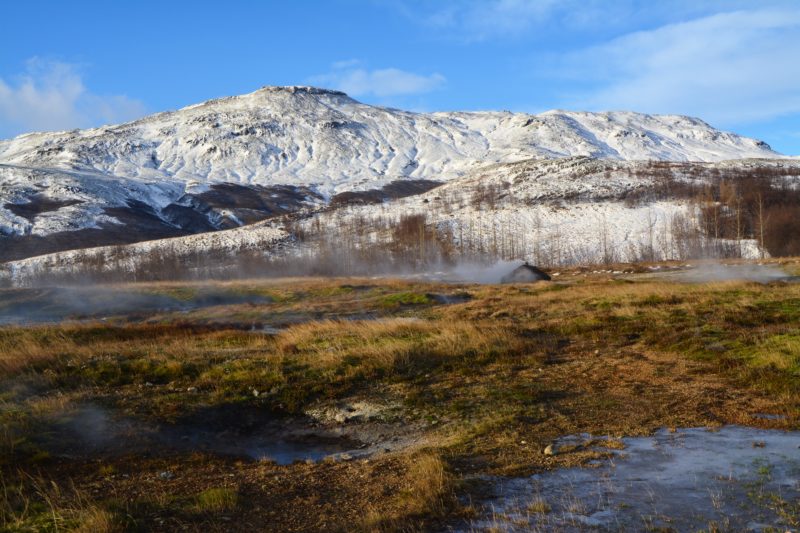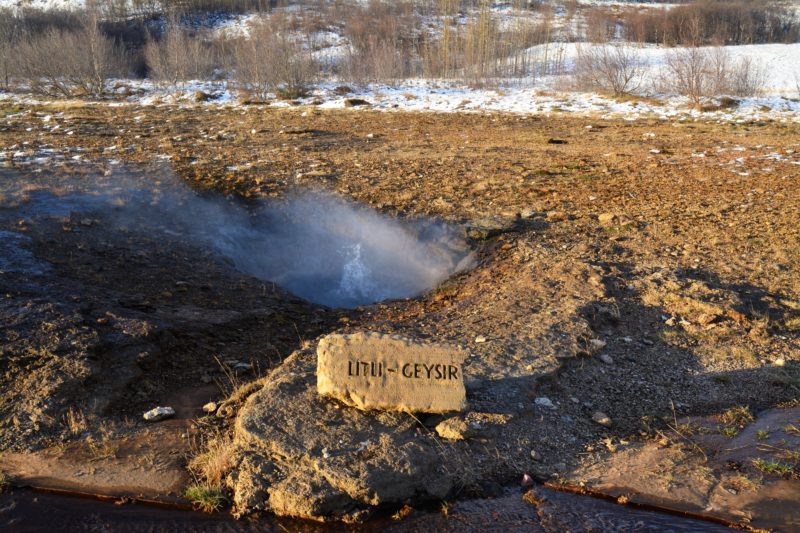 Gullfoss, the golden waterfall, is the last stop at the Golden Circle. It's by far the biggest waterfall I have ever seen. The ones I saw in Jeju Island, South Korea in 2016 are nothing compared to the enormous size of this one.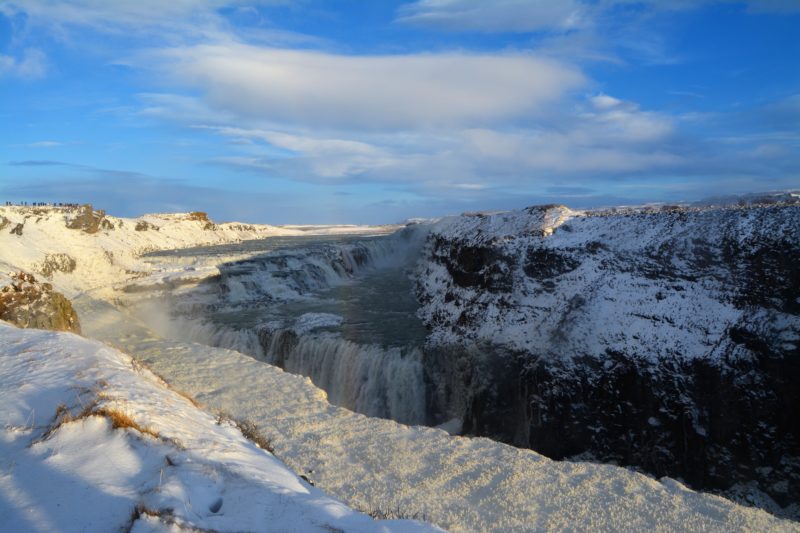 It's just a pity you can't see all the way to the bottom.
The last sight of the day was Seljalandsfoss waterfall. We made it here just in time before the dark. It was already too dark to take proper pictures – and too windy for a tripod – but I managed to take one from a bin.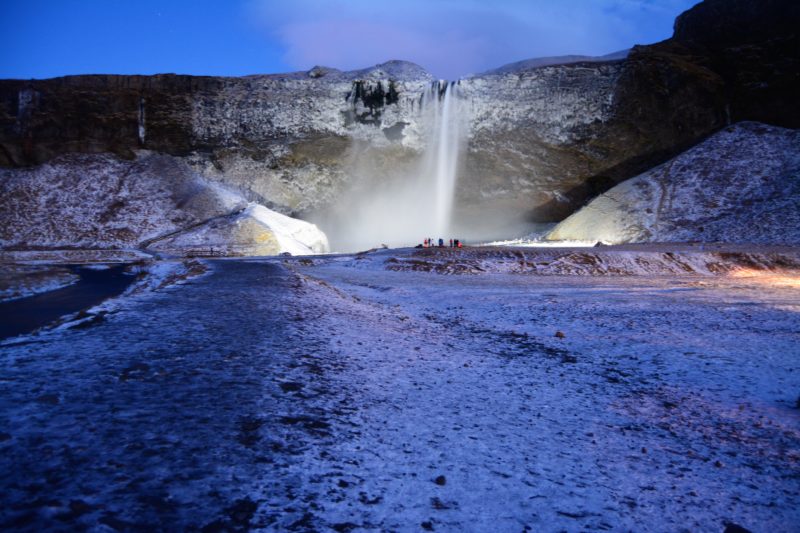 In better weather conditions you can walk behind this waterfall. However, even in summer it's slippery so imagine what it's like in winter.
In the evening we tried to spot the northern lights. We didn't see anything though. This is also the night I learned how to use my tripod. I thought I had a tiny one, until one of the guys on the tour showed me how to unfold it.
Day 2: Vatnajökull glacier
We started the day by driving down to Reynisfjara black sand beach. We arrived there well before sunset, so we could see the black sand and the outline of the rocks jutting out from the ocean. However, we could hardly see the Reynisdrangar basalt pillars. Luckily I didn't really mind as I've seen quite a few basalt columns on my travels (Northern Ireland & Jeju Island).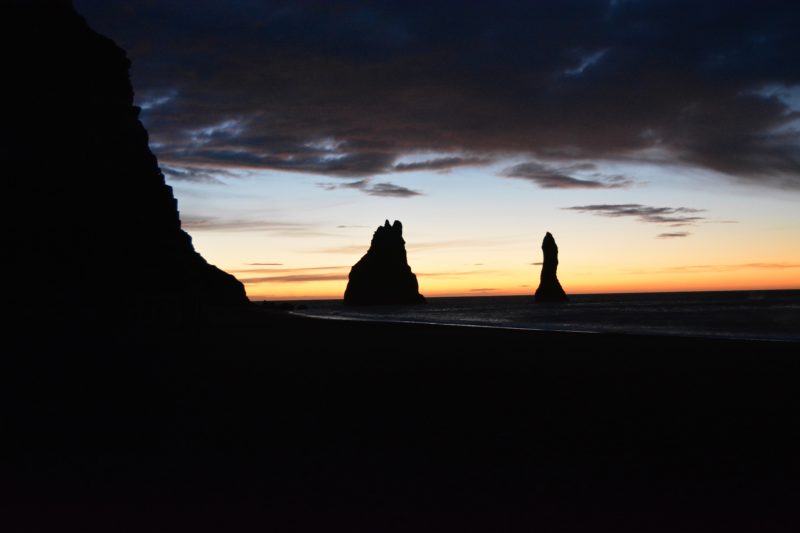 The second day was all about driving and stopping every now and then to admire the views.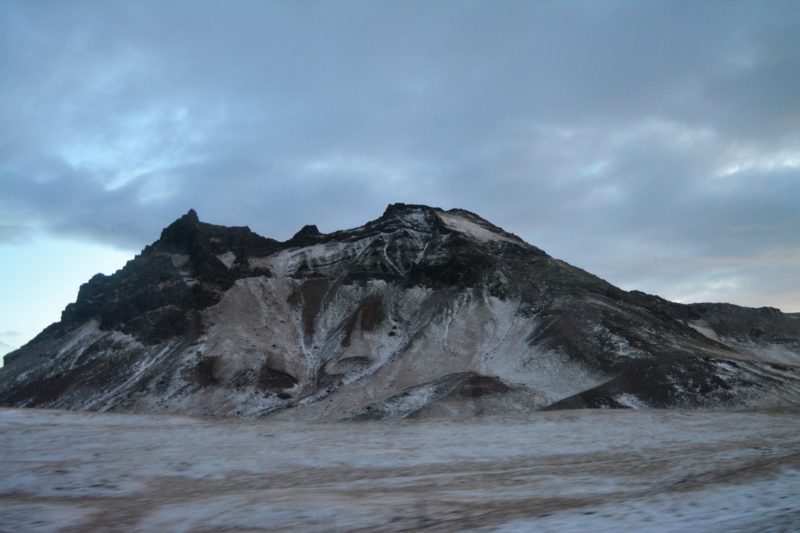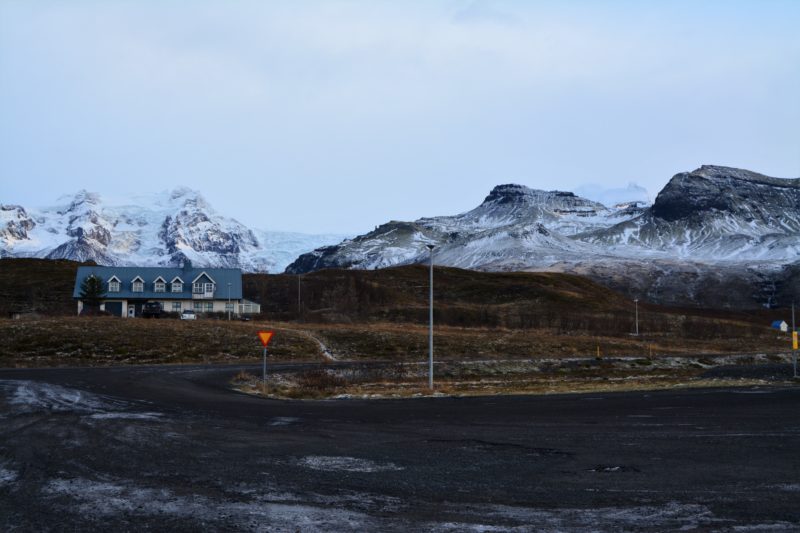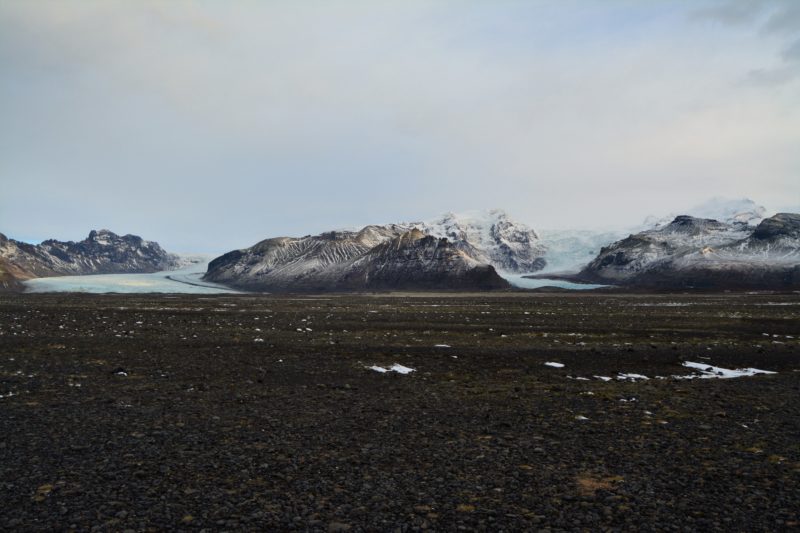 Along the way, the driver insisted stopping at a sight which shows the strength of the glacier outbursts. This piece of scrap metal used to be a steel bridge; due to the force of the glacier outburst it became completely mangled. This is something builders in Iceland have to consider when building any structures.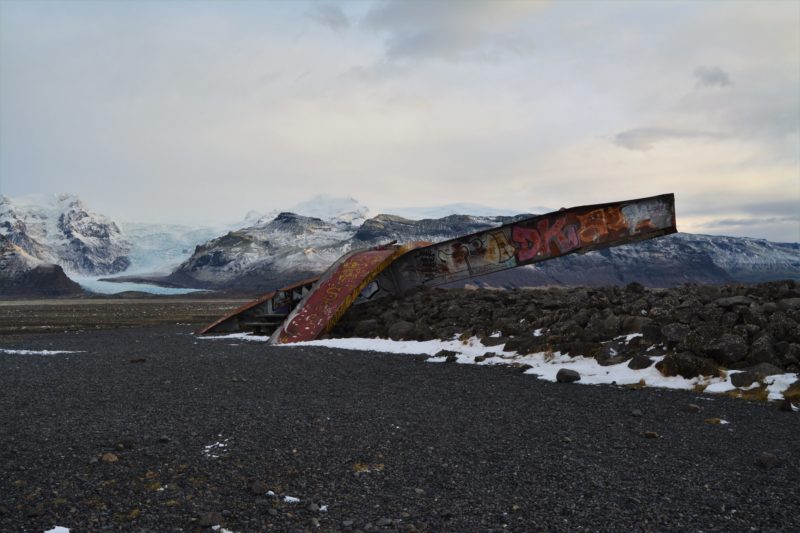 The goal of day 2 was to reach Vatnajökull glacier to go into an ice cave. It doesn't happen very often on a tour that an ice cave is actually accessible, so we were incredibly lucky to be able to enter. This was one of the absolute hightlights of the trip to Iceland. However, I will describe this and the Jökulsárlón glacier lagoon in my blog post next week. This kind of adventure deserves a separate post.
In the evening we tried to spot the northern lights again; my camera managed to capture some green light. However, it was not visible without a camera, so northern lights are not crossed off my bucket list just yet.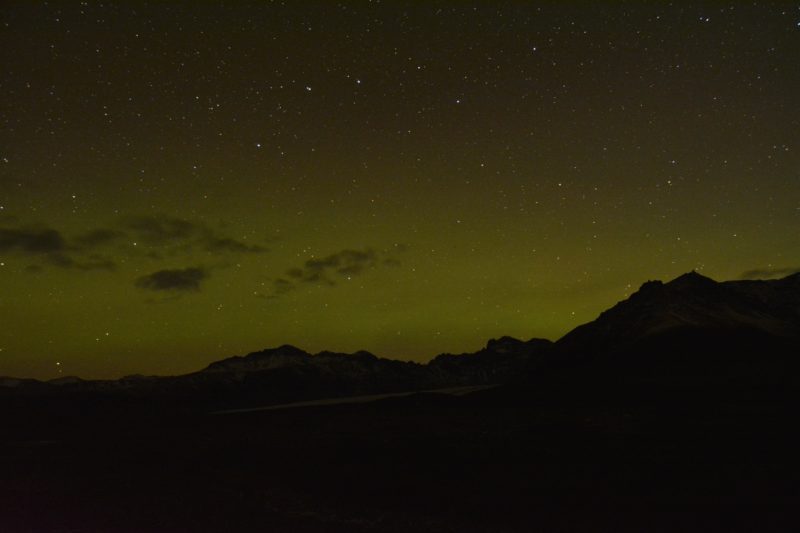 Day 3: Glacier Walk & Drive to Reykjavík
The third day we rose early to partake in a glacier walk. Again, I feel this warrants a separate post which will go online in two weeks. This time I will not to describe the adventures but more the misadventures of this particular part of the tour.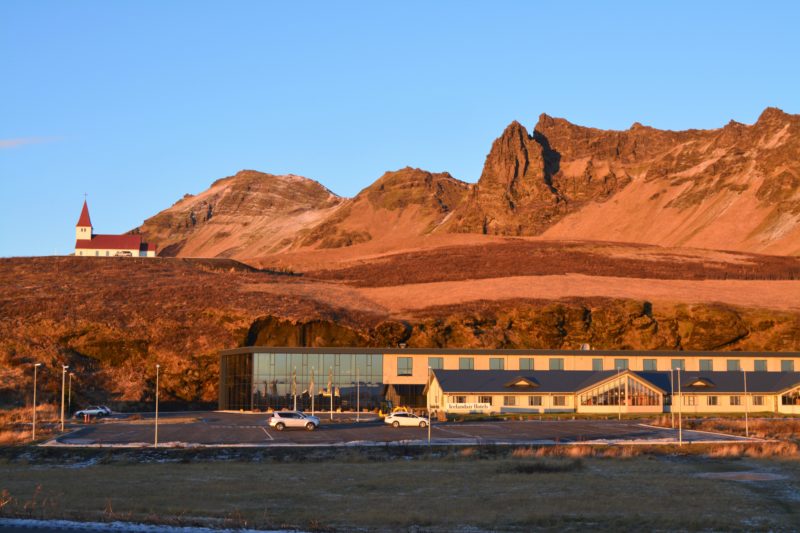 On the third day we also drove back to Reykjavík. The same route, which means we could stop at sights which we missed on the way there. Skógafoss is one of those sights, a massive waterfall. You can only reach this waterfall by walking along a very slippery walkway. During the summer you can also climb up, but due to the cold weather and strong wind that was impossible on the day we visited.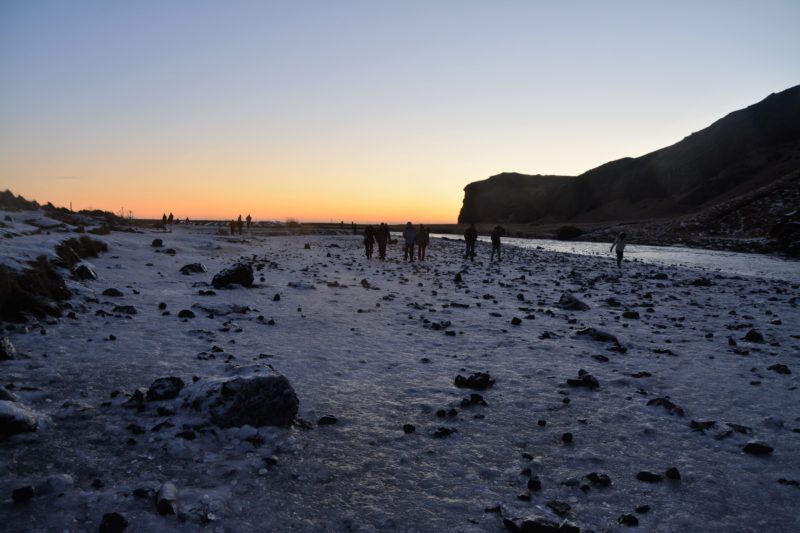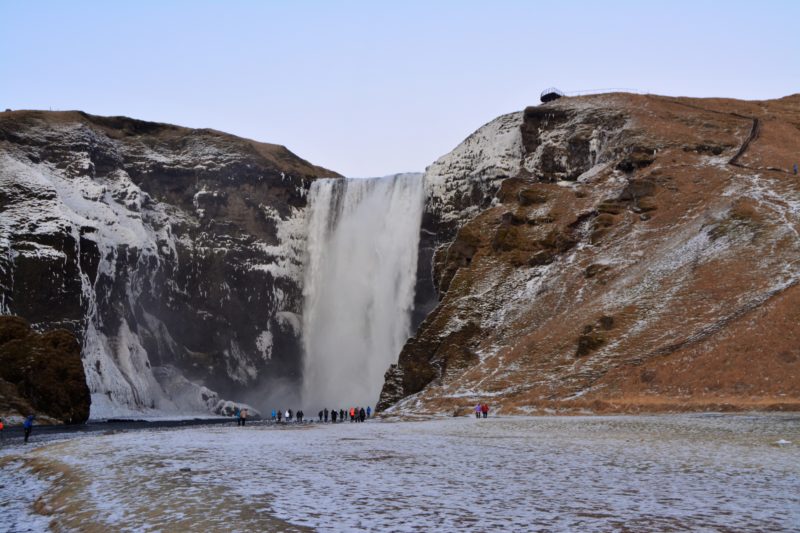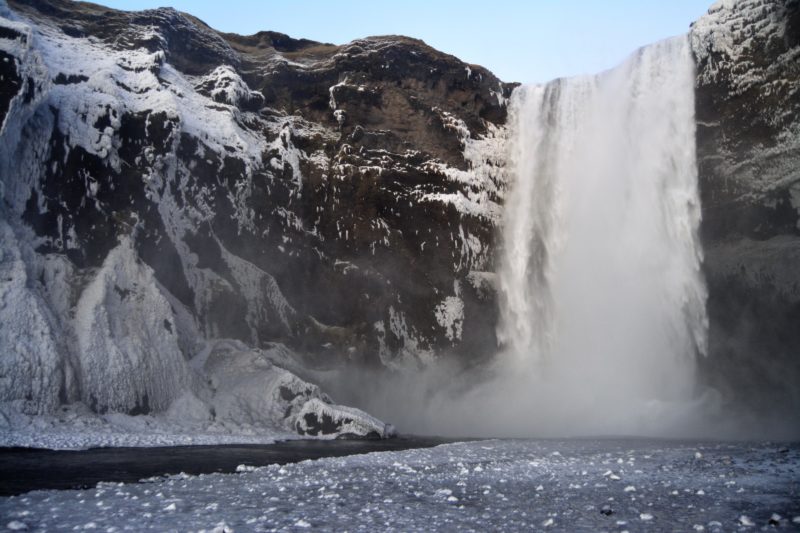 We could also see the Heimaey island group shrouded by a beautifully mysterious mist.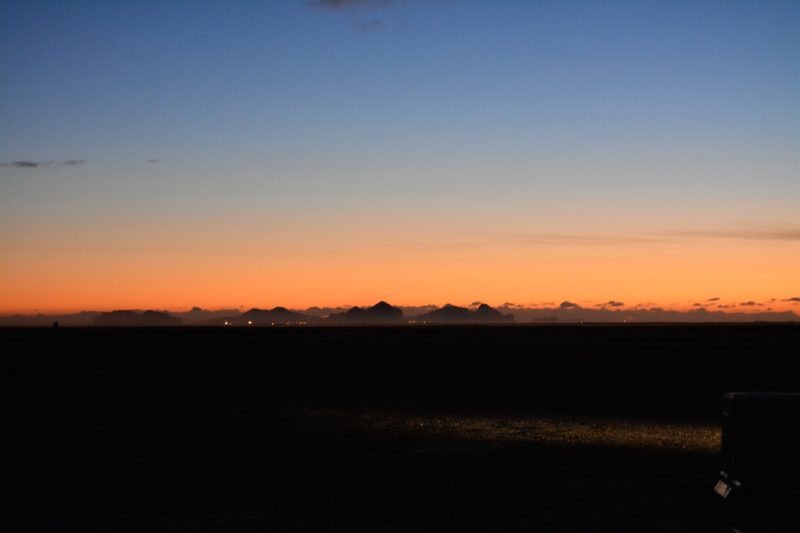 Around 8pm we reached Reykjavík and our tour guide was so kind to call us a taxi to take us to the airport hotel where we would be staying for the night. We had a very early morning flight, and we didn't want to wake up too early to catch it. A stay close to the airport is ideal, although the taxi there is much more expensive than the bus in the morning would have been. There are no buses in the evening.
Conclusion
I already described our reasons for choosing a tour during the winter months rather than driving along the coast ourselves. I can really recommend this tour. The Arctic Adventures guide was really nice, and all the activities were well-planned. The one we had was also an amazing driver in very bad weather conditions.
Some people might say they would find the tour too rushed, I wouldn't agree. It's because the days are short, if you take your time you will only see half the sights you could see.
Iceland is a beautiful country, and I'm 100% I'll return one day to see more of it. For now, two more posts about Iceland are pending. One about the ice cave & glacier lagoon and one about precarious glacier hiking.