I have had this blog for over two years and I have never looked back at my year of travel. 2017 is as good a time as any to start new traditions! I hope you are just as fond as I am to look at numbers & re-living past trips, because I'm completely ready to look at the year gone past.
First, the numbers:
Countries visited: 7. These are all the unique countries I have visited. I have been to Germany and the UK twice this year, which I haven't included in the count.
New countries visited: 3
Plane rides taken: 17. I only count origin to destination as a flight regardless of layovers – for example, Amsterdam to Kuala Lumpur is counted as one even if I had a layover in Doha. The fact the number is so high is partly due to the amount of flights I have taken in Malaysia & Brunei. I didn't travel by bus there, instead I took seven planes. This is not something I normally do.
Days spent travelling (incl. flight days): 55, which is almost 8 weeks. I have a full-time job, so this number makes me very happy!
Different Beds Slept In: 18, not counting overnight flights.
New UNESCO Sites visited: 10
Dives: 7. One in the Netherlands, and the others all in Borneo.
Next, the travels by month:
March – Ireland
The first trip of the year I had booked on a bit of a whim. Friends of mine visit Ireland every year to celebrate St. Patrick's Day and I decided to join them this year.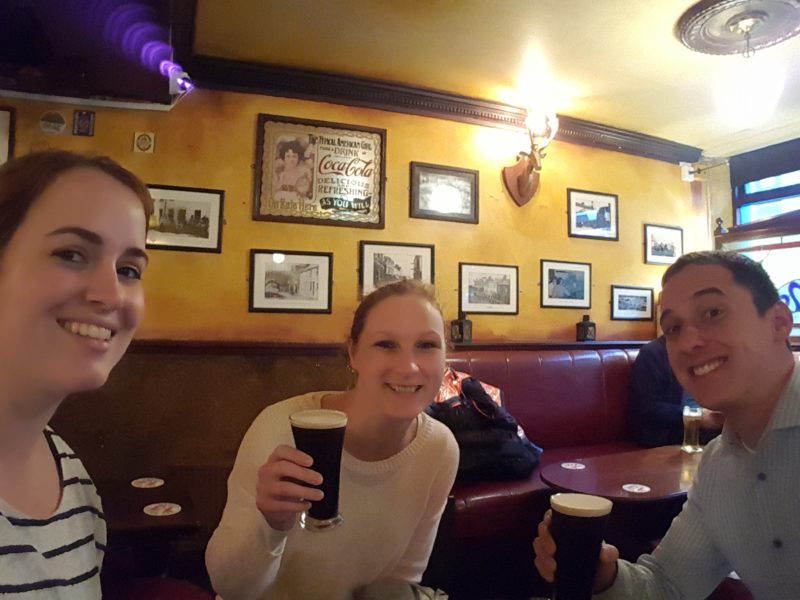 Unfortunately, even though I loved hanging out in pubs with them; I don't have fond memories of St. Patrick's Day itself. We experienced so much rain that even the parade in Galway was cancelled. The city itself didn't inspire me much either. I can't stop comparing Ireland to Scotland, and the latter always wins.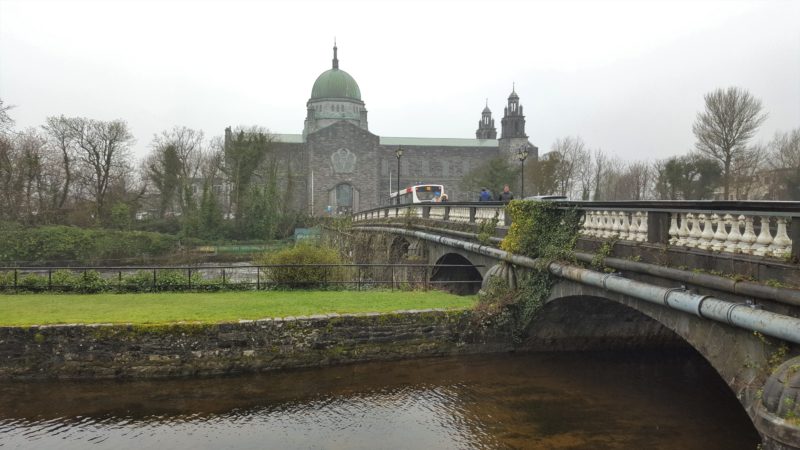 I did enjoy the two side-trips I have made. Upon arrival, I visited the Cliffs of Moher (luckily on a very sunny day) with Paddywagon and while driving back to the airport we visited Clonmacnoise together.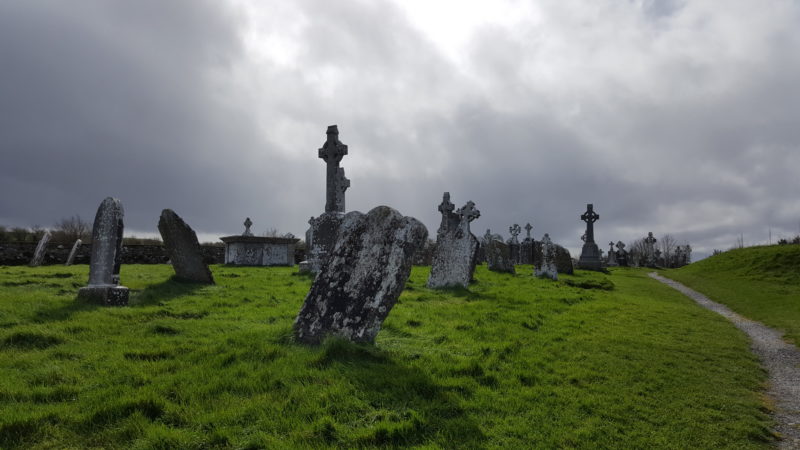 April – Edinburgh
I turned 30 in April this year, and I couldn't imagine celebrating my birthday anywhere else than my beloved Edinburgh. I stayed with friends for five days and instead of visiting the city. I ventured to some unexplored areas outside the city.
I was awestruck by the Kelpies in Falkirk for the first time.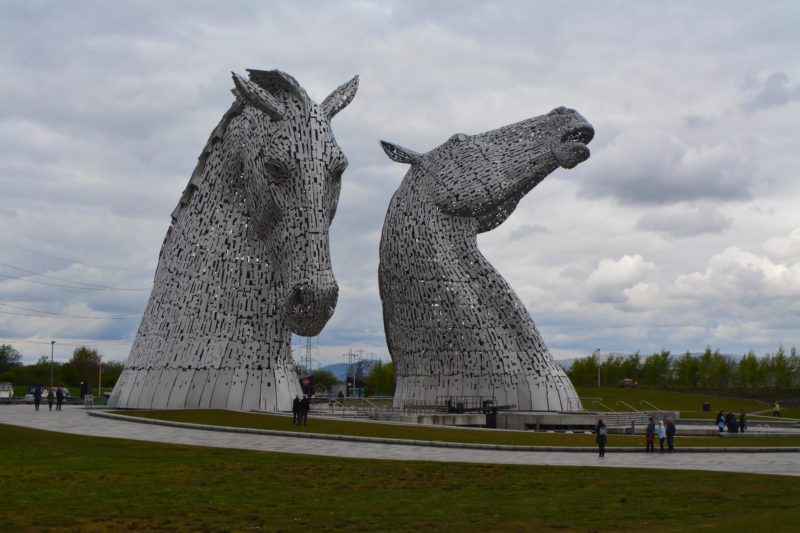 And I visited Peebles, and Dean Village; the latter is a short walk from the city centre.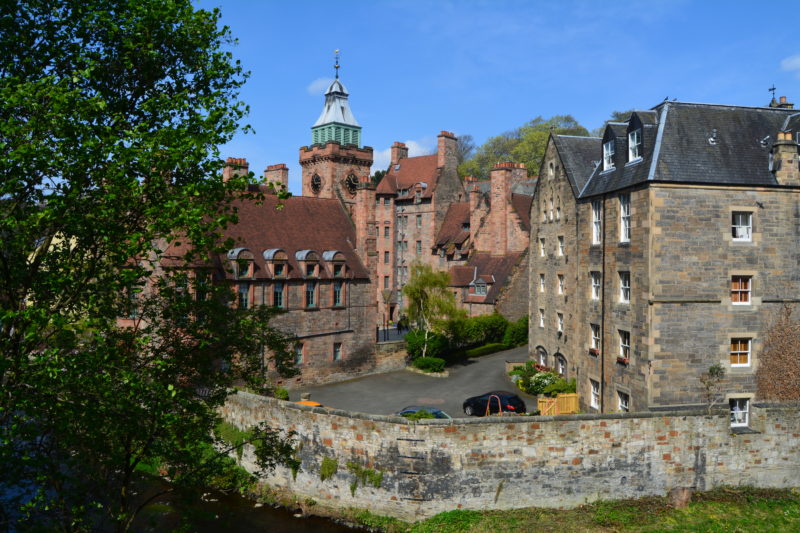 A trip to Edinburgh never disappoints!
May – Berlin
In May I visited a big European oversight with a friend of mine. I can't believe I had never visited Berlin before, but it was a matter of instant attraction and I can't wait to visit the city again as there is so much more on my to do list!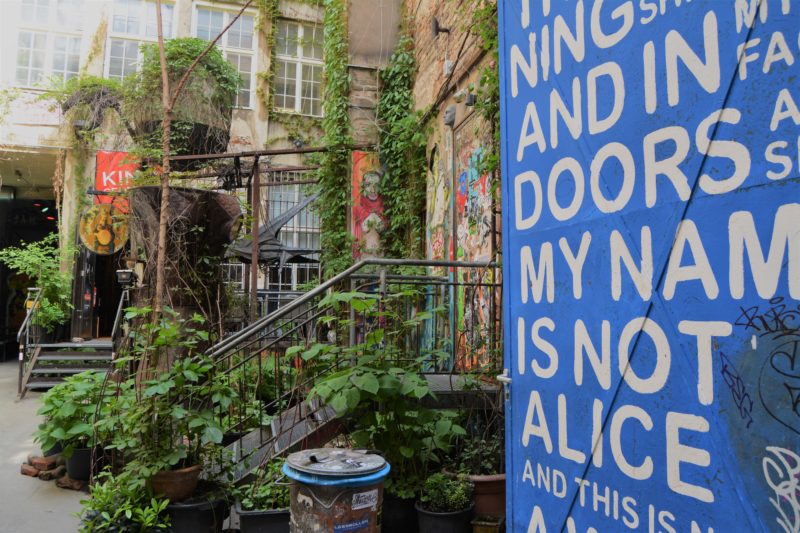 What I like most about Berlin is how versatile it is. You can walk through grim streets with street art, or through a district with classical buildings. I wonder if anyone could genuinely dislike this city as there seems to be something for everyone.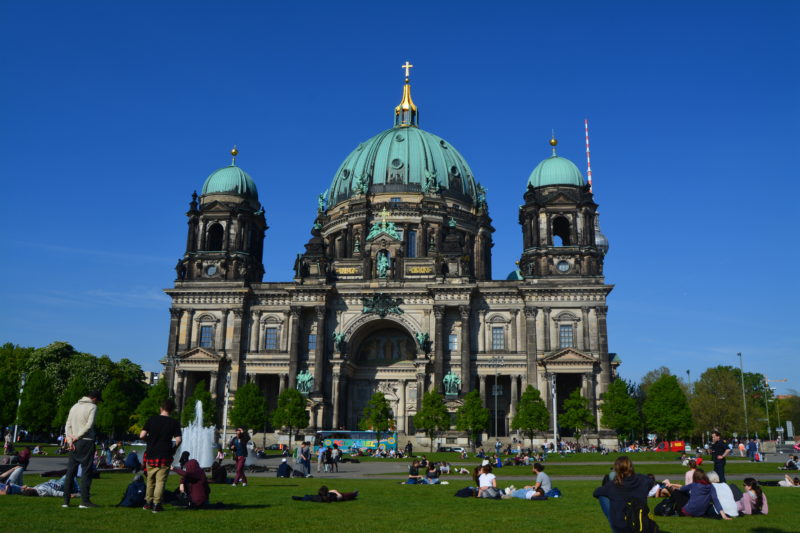 June – Saarbruecken
I try to visit my grandmother in Saarbruecken, Germany at least once every year. This year I visited her for her birthday in June. I decided to take it easy, by not going sightseeing which was actually a nice break from all the travelling I was doing before.
July – Champage Region
The Champagne region in France was a bit of a bonus trip. One of my friends is a teacher and she has most of July and August off. On a whim we decided to take a small trip together and we ended up in the Champagne region since it's only a 5-hour drive from my house.
The area is beautiful, and there are quite a few authentic little towns – not to mention the delicious champagne at all the different cellars.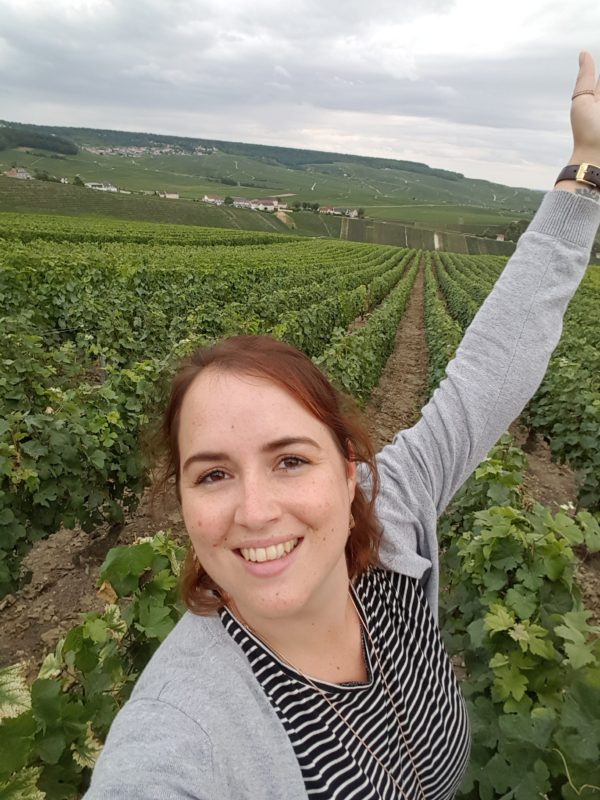 I didn't write a post yet, but after my stories about Malaysia I will get around to it and link the post here.
August – Malaysian Borneo & Brunei
After all these short trips it was time for one of my "proper" holidays of the year. I went to Malaysian Borneo & Brunei for two weeks. These were both new countries for me and I have to say I really enjoyed them. Especially Brunei took me by surprise.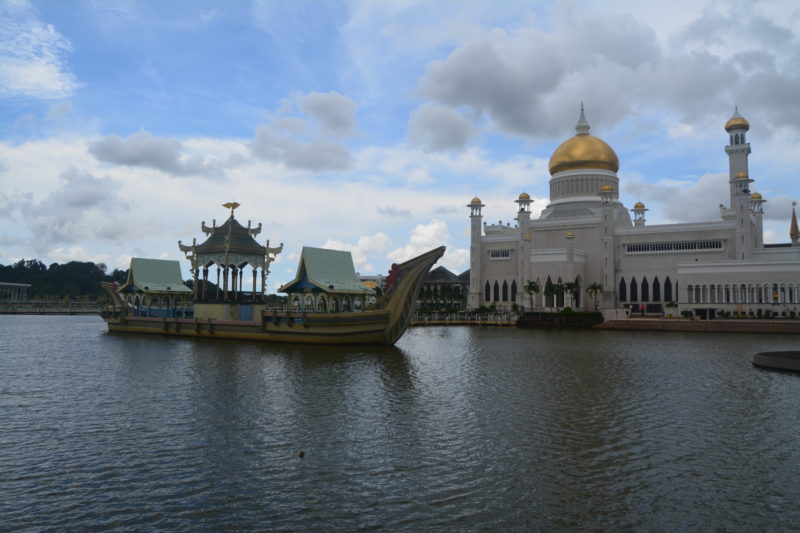 I focused mostly on the island of Borneo, but I'm 100% sure I'll make my way back to Malaysia one day to visit the mainland. The people are incredibly friendly, the food is delicious and the sights are stunning so there is nothing that would stop me to visit again.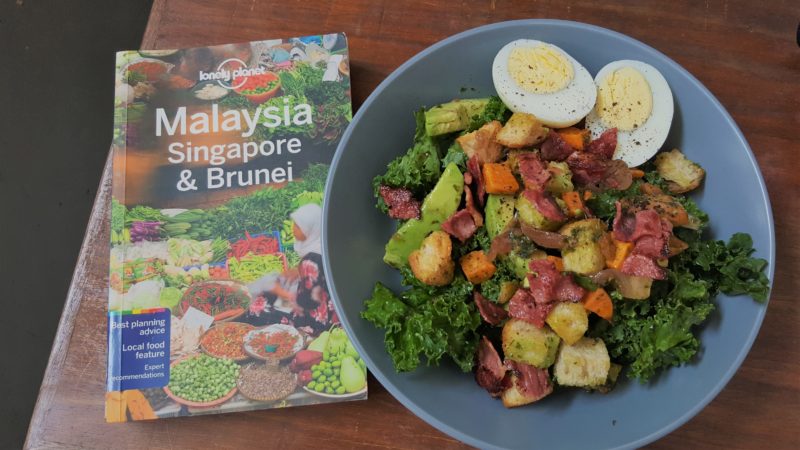 I would actually also consider visiting the north of Malaysian Borneo, Sabah, again, in order to enjoy the dive sights in the east & the jungle in the centre.
November – Cuba
My highlight of the year was, without a doubt, the two weeks I spent in Cuba. I haven't started writing about this trip, because I haven't been ready to look back. It might sound cheesy, but I genuinely loved this trip so much I'm afraid that the photos will disappoint me when I look at them.
This was the first time I travelled with a group. I will not hesitate to do that again, because not only do the tour guides (one Dutch & one Cuban) provide way more insight than I could possibly glean from a text book, also the group itself provides many drinking buddies which make the whole trip so much more social. I always meet people when I travel, but never like this.
Not to mention the fact that Cuba is a beautiful country, with kind-hearted people, an intense history and beautiful buildings.
Once I can start writing about it (I hope I can do this trip justice) I will link the posts in this article.
December – Edinburgh
My final trip of the year was a weekend trip to Edinburgh. I was telling a friend of mine all about this beautiful city, and she wanted to see for herself what it was like. I never say no to a trip to guide someone around my favourite city.
I will not write a post about this trip. However, I have written a lot about the city already since I can't get enough of it.
How did I do in terms of my goals?
I set some great goals for myself at the start of the year. However, I started deviating from these goals almost immediately resulting in me almost missing every single goal. That's not a bad thing, it just means that I didn't set goals I was passionate enough about. I'll do a bit more soul-searching before I post my "Plans for 2018" article.
The Netherlands
My plan was to visit the three remaining UNESCO sites in the Netherlands:
Defence Line of Amsterdam
Droogmakerij de Beemster (Beemster Polder)
Rietveld Schröderhuis (Rietveld Schröder House)

Seventeenth-Century Canal Ring Area of Amsterdam inside the Singelgracht — 2005
I actually only visited the Rietveld Schröder House this year, so 33.33% of this goal has been achieved.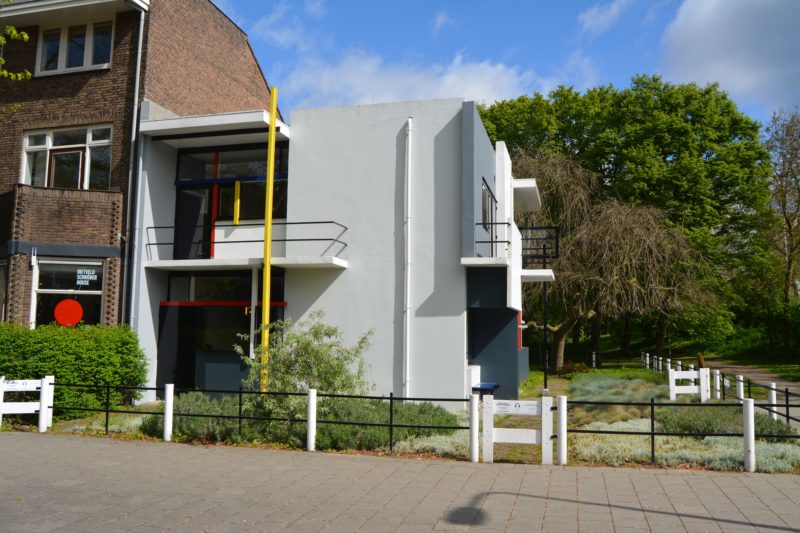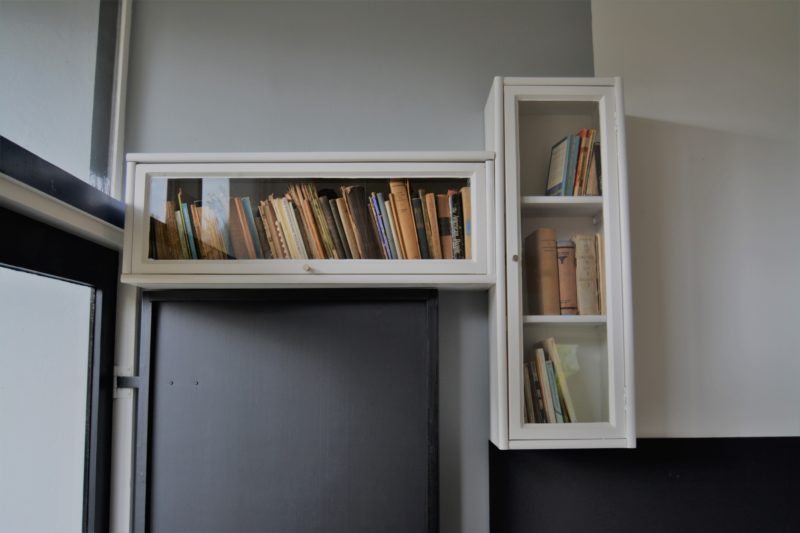 As a bonus, I also visited my second of twenty National Parks in the Netherlands, the Biesbosch. Where I was lucky enough to spot the super elusive beaver.
Now that I'm writing this I realize how little I've been exploring my own country this year, I really have to change that for 2018.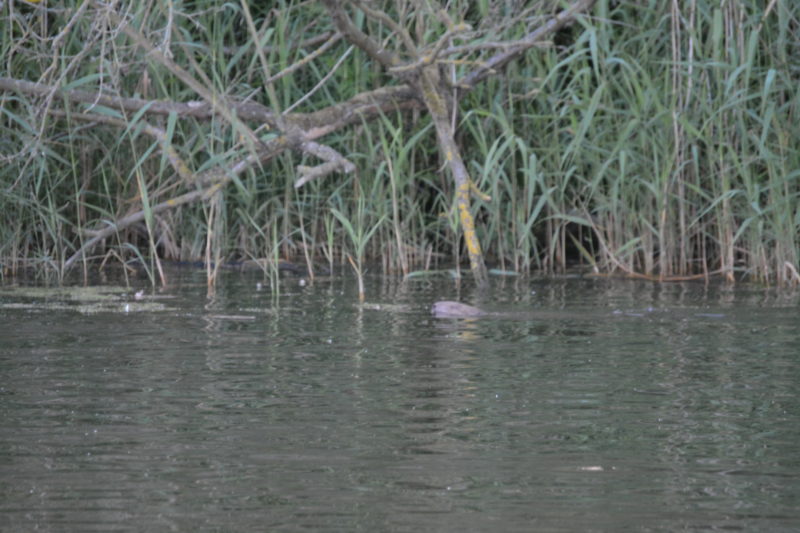 Europe
Here comes another big fail, the destinations I said I wanted to visit this year were:
Barcelona
Berlin
Prague
Tentative: Andorra
Tentative: San Marino
Tentative: Monaco
Tentative: Liechtenstein
And to spice things up I mentioned Moldova, Georgia, Estonia, and Ukraine as possible destinations in passing. As you have seen in my wrap up above, I only visited Berlin, but I did visit many other European destinations. This section is where it becomes most apparent that I simply wasn't passionate enough about my goals.
The World
I wanted to go on a diving trip with a friend, which didn't happen, but I did go diving in Malaysian Borneo by myself. I missed my buddy though, so hopefully we can go diving together in 2018.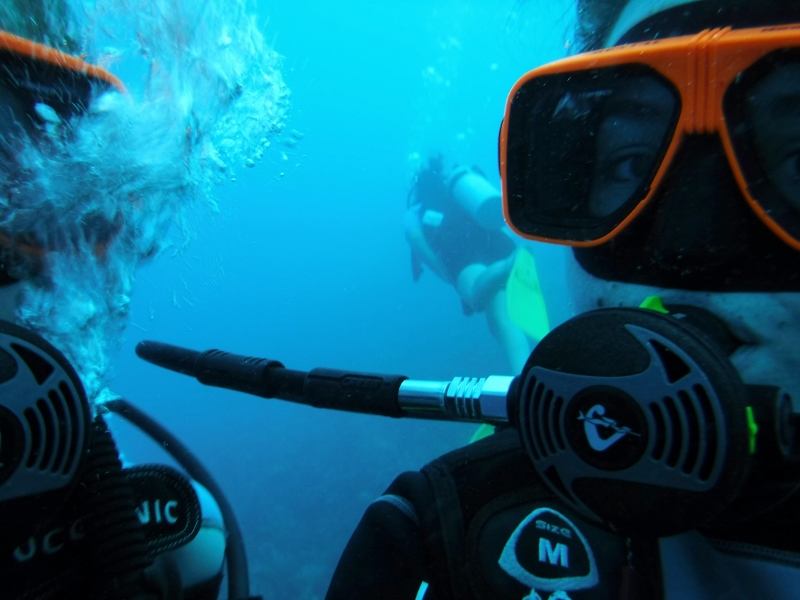 I also wanted to go to Madagscar, which didn't happen because the plague epidemic had me worried. Instead, I went to Malaysian Borneo and Cuba, which aren't bad alternatives but Madagascar is still on the list.
Conclusion
I hope you like this post. I always enjoy wrap ups and I hope you guys like mine. If you have any suggestions on how I could improve this post in the future, please let me know in the comments!
I hope you all had an amazing year of travel in 2017. What was you favourite destination?