Change of plans! I wanted to go over all the books I have read this year, like I had done in 2016 and 2015. However, I read almost double the amount of books in 2017, so I don't think that same format would work for this year. Therefore, I will only go over the highlights and lowlights of this reading year.
If you're interested what I've read the first half of this year, you can check out this post.
First the numbers:
Books read this year: 56
Amount of pages (not including audiobooks): 23,926
Physical books: 44
Audio books: 12
Number of rereads: 0
Number of DNFs: 1
Number of Books by New Authors: 40
Genres:
Classics: 0
Contemporary: 14
Dystopia/Utopia: 4
Fantasy: 4
Historical Fiction: 6
Magical Realism: 1
Non-Fiction: 7
Mystery/Thriller/Horror: 11
Paranormal: 1
Science Fiction: 6
Short Stories: 2
———
Young Adult: 6
Adult: 50
Favourite Books of the Year
I rated 6 books with five out of five stars. Two books are my absolute favourites of the year though.
Angie Thomas – The Hate U Give (2017)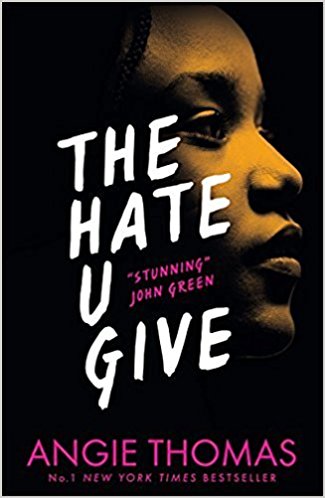 This book deserves all the praise it gets.
I'm not the biggest YA fan, but this book is so incredibly hard-hitting that you won't even notice you're reading a young adult novel. The story is about Starr, a girl from a poor neighbourhood who becomes a witness to the fatal shooting of her unarmed best friend Khalil by a police officer.
This, unfortunately, is based on reality. Even though Starr is a character in a book, it feels like something we have seen on the news all to often. I think it would be good for even more people to pick this book up.
Angie Thomas has written a gut-wrenching novel with characters that feel incredibly real. I can not recommend this novel more.
Kristin Hannah – The Nightingale (2015)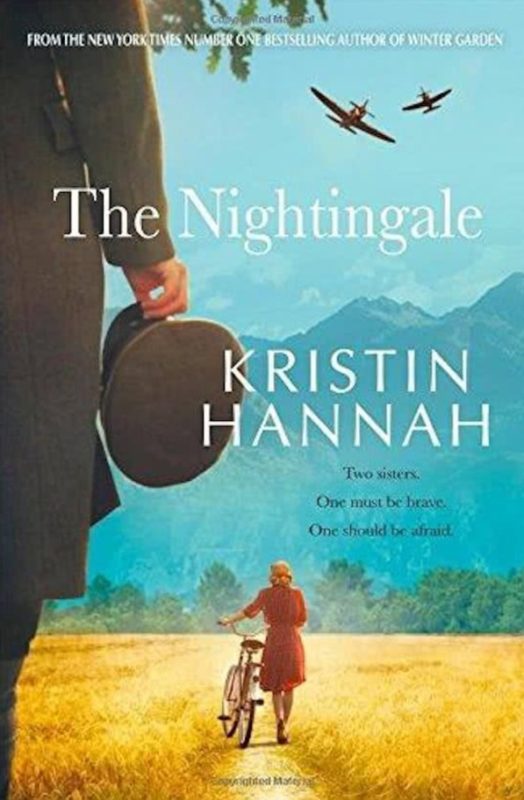 If I could've given this book more than five stars, I would have! If you don't read any more of my book review, you actually know enough from the first sentence.
It took me a long time to stop ugly crying when I finished reading the book. The story pulled at my heartstrings like only Victoria Hislop normally can without being a full-fledged unabashed weepie.
Kristin Hannah's "The Nightingale" is extremely well executed. The storyline starts with an untold story which burdens the protagonist and then jumps to the past to tell that story.
The past takes place in the Second World War. If you think you can't possibly read any more books about the Second World War, you're wrong. Hannah puts the focus on the whole story of the the war from the point-of-view of two sisters who have also lived through the Great War.
The character development flows steadily & even though the characters sometimes surprise the audience. However, these out-of-character decisions they take are always explained.
It's a story about loss, bravery & love and the intertwining lives of two very different sisters. I can highly recommend this novel!
Most Surprising Books of the Year
I didn't expect to like these books as much as I did.
Hanya Yanagihara – A Little Life (2015)
Seeing that most reviews of A Little Life are either very positive or very negative, I'd like to try something here. I'd like to compare this novel to a trip to India.
Let me explain why. A lot of people travel around India and notice the smells, the busyness, the chaos, the ugliness. However, a lot of people look at these same scenes and smell the delicious food, see people's friendly faces, and see the beauty of the country.
This is what I'm like when it comes to India and to this novel. The story is about four best friends, and it becomes clear quite quickly that the story will focus around Jude. The most mysterious and tormented of them all.
I don't want to give too much away, apart from the fact that you should try to focus on the good. Hanya's writing style is great in conveying human kindness and she has the ability to create real lives within the pages of this book.
Peter Clines – 14 (2012)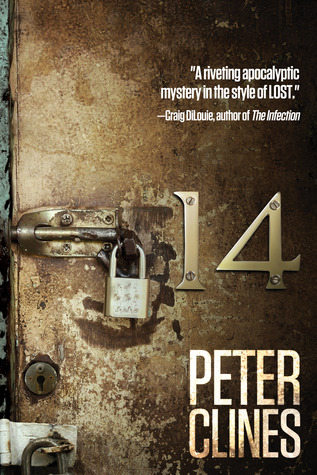 I'm rating this book 4.5 stars.
My only problem with it is, that it's not long enough. I consider this a luxury problem, rather than an actual problem with the book.
I found this book through the deals in Audible. Otherwise, I would've probably never picked this up as it isn't really my genre. I haven't read any science-fiction/horror for years. This book reminds me that I should.
The plot is rather "simple". Nate is down-on-his-luck. He hates his job, has money issues & loses his apartment. He stumbles upon an apartment in Los Angeles which seems too good to be true. It's incredibly cheap and his room is spacious. However, every room in this old brownstone has a mystery or two. Mysteries that stretch back over a hundred years. Some of them are in plain sight. Some are behind locked doors.
It's like a mystery/detective/horror/science fiction/steam punk novel all rolled into one and I loved it!
Kim van Kooten – Lieveling (2015)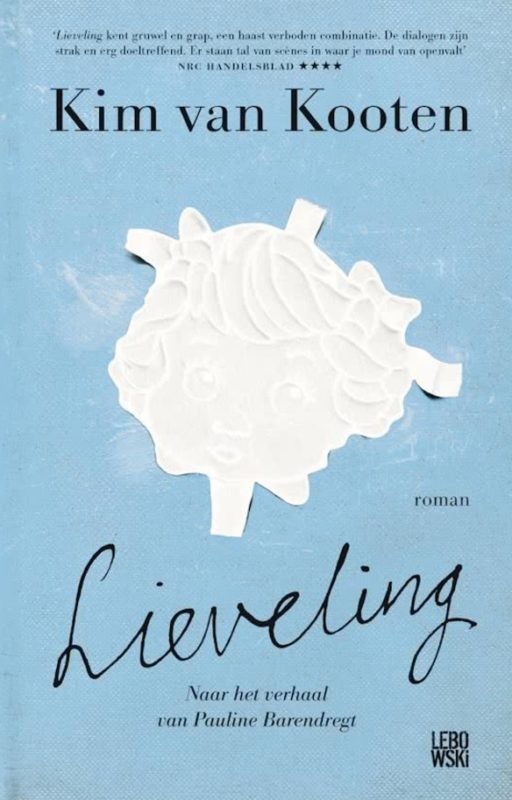 Lieveling is an incredibly hard-hitting book. Kim van Kooten is a famous Dutch actress and she has accepted the challenge to write Pauline Barendregt's story of sexual abuse.
Somehow this book feels incredibly Dutch. It has the kind of rawness, and dark-humour, I cannot imagine in an English book on the same subject.
The book is written from the point-of-view of the little girl Puck who moves to a rich man's house with her mother. She and her mother both come from a poor background in Rotterdam and they can't believe their luck when they end up in the gorgeous house of Puck's new father.
Unfortunately, this story does not have a happy ending. It was hard to put this book down, but it was also hard to read. The ending left me cold; there are no lessons, no plans, no happy outcomes. It's hard to digest, but it's incredibly well-written.
Most Disappointing Books of the Year
Blake Crouch – Dark Matter (2016)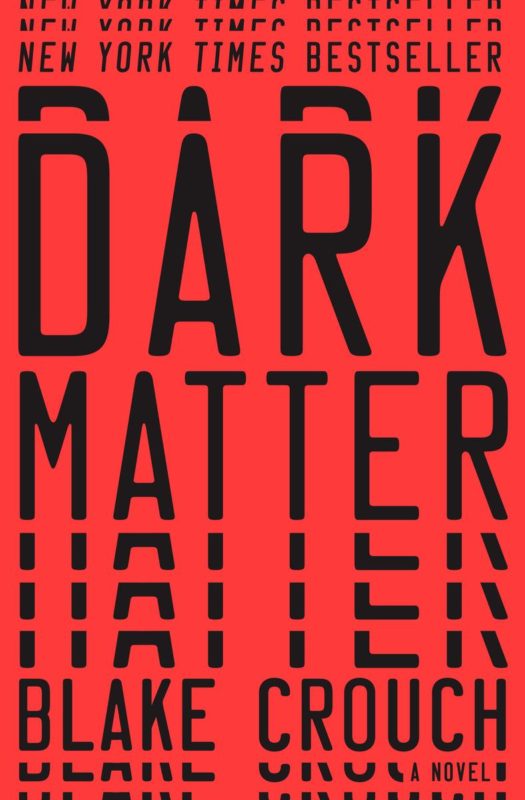 I didn't know what kind of book I was buying, because the only sentences in the synopsis that I read were:
"'Are you happy with your life?'
Those are the last words Jason Dessen hears before the masked abductor knocks him unconscious.
Before he awakens to find himself strapped to a gurney, surrounded by strangers in hazmat suits."
Let me tell you, I was expecting an altogether different book than the one I read. Jason Dessen is leading a happy life with his wife Daniela and teenager Charlie. Every now and then he feels a pang of regret, because he chose life with them over pursuing a career in science.
One day, he is whisked away from this life by a masked man and he wakes up in a completely different world, where the people he knows so well don't know him. How can he make his way back?
The core of the story is interesting, and it did keep me reading. It's just that I felt less excitement than when I read The Fold by Peter Clines. I felt this story was very linear, moving its way to its inevitable goal slowly but surely. I'm comparing it to The Fold because both books are about multiverses. The way Clines has tackled it I liked a bit better.
I had a mind to read Crouch' other books the Wayward Pines trilogy, but after reading this one I'm not sure I still want to. The way the story is told it keeps you hooked, but I'm not sure I was thrilled to read it which is something you would expect from a grand story like this.
Victoria Hislop – Cartes Postales from Greece (2016)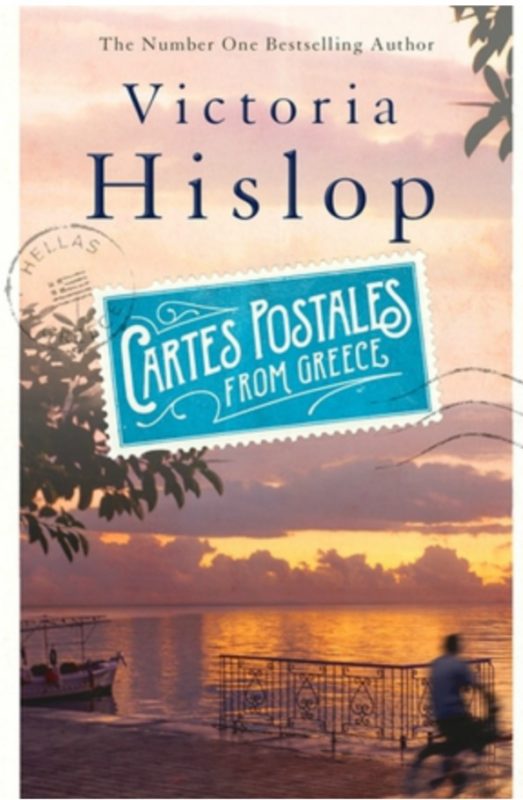 In my view this book is another no-no by Victoria Hislop.
The last no-no was The Sunrise, a story filled with bland characters. Cartes Postales from Greece is yet again about nobodies, and this time it's about a lot of nothing. The previous book she wrote with short stories, The Last Dance: And Other Stories, was really good. I liked the stories and I liked her storytelling.
This time she tried to make the short stories part of a bigger story, which I don't think worked. Postcards and finally a notebook are sent to Ellie's address in London which are all addressed to a different person unknown to her. She can't help herself and reads all the postcards, and allows herself to dream about the places in Greece that are shown on them. She's unhappy with her life and with her job and she decides to visit these places for herself. Then she receives the aforementioned notebook, through which she gets to know the person sending the postcards a bit better.
It sounds promising, but it's not really. She's unhappy, the person (Anthony) sending the postcards is unhappy, the people that Anthony meets tell him either depressing or happy stories but all-in-all they seem quite unhappy. And finally it all wraps up to nothing. Hislop tries to somehow make the stories (which range from a female artist, a couple in an unwelcome town, to Daedalus & Icarus) link in with the main story, but it doesn't work.
I'm always happy to read novels about Greece. I'm always happy to see Greek words I know pass the pages of the book but at the end of the day; the words spoken by Anthony about his book towards the end of the story are completely true for this novel as well:
"It won't change anyone's life. I have no illusions about that. It's not so unlike these stories. I had nowhere else to put them except on these pages, and there was nowhere for them to go except to your address." (Hislop 423)
Naomi Alderman – The Power (2016)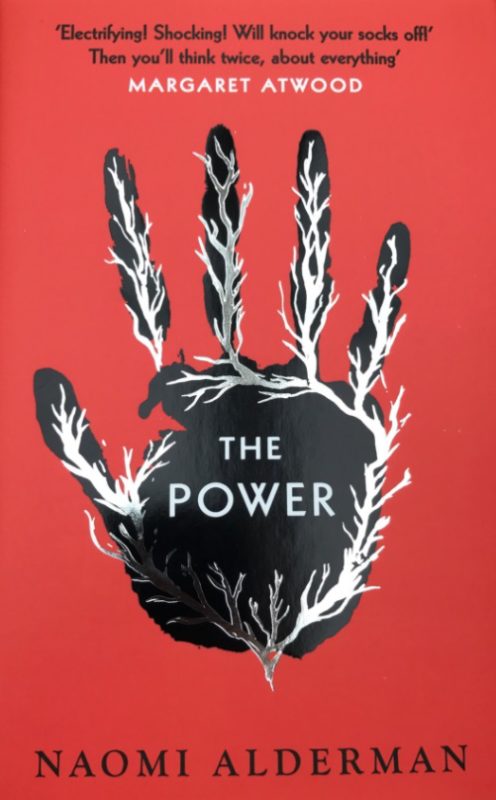 Ok, it's hard to wrap my head around this book. On the one hand I'm super excited about the story, and the story's incredible potential. On the other hand, I'm disappointed about the excution of it. That's why I've given it 2.5 stars.
Naomi Alderman's novel is about a world in which women develop the ability to release electricity from their fingers. This ability makes them the dominant species. This in turn creates a world where women rule, and where men live in fear to be raped or curbed (male genital mutilation).
Let me start by saying what I like about the book: I like the fact that it's told from the point-of-view of four different characters from different parts of the world – one of which is a male reporter. This way of telling the story keeps the pace going.
I also like the fact that it's told from the supposed start of the "apocalypse" (I'm using this word in want of a better one). The images throughout the book suggest we're actually reading a history novel. It's a nice touch to the narration.
I like and dislike the fact that parts of the book remind me of The Passage and The Twelve, especially the parts where Mother Eve discusses things in her head with a godlike character. I like it, because I didn't mind this in the Passage. I dislike it because it doesn't really seem to work in the telling of this book.
What I dislike most about the book is that it doesn't utilize it's full potential. The story could have been so powerful. Rather than describing the world women live in right now, a world the reader will identify with, it skims over that topic and we're thrown into a world where women are crazy with power. I feel it defeats the purpose of this story. No one is any the wiser after reading it. What does the author want to tell us?
Worst Books of the Year
Robert McCammon – Swan Song (1987)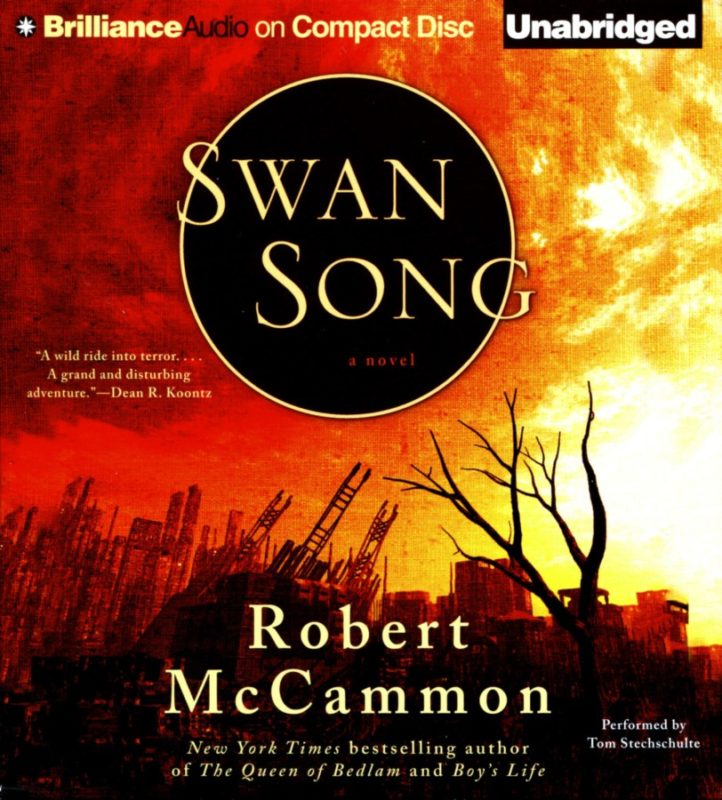 This book is about three "regular" books long, and it honestly doesn't have to be. I do not need 34 hours worth of listening (900+ pages) to figure out I don't really feel anything for any of the one-dimensional characters.
Swan Song is told Stephen King-style. People who have read The Stand will know what I mean. It's beyond my understanding why this book has been written at all, as it doesn't tell anything new. It basically retells King's story, badly.
The story seems to get off to an interesting start during what appears to be the cold war. This part of the story is way too short though, because once the bombs go off the partition between "good" and "evil" is swiftly recreated.
The characters are slightly different, but they are very likely killed off fast so there's no need to get attached. Better yet, even characters hanging around for longer don't induce any sympathy.
In the end, this story is about "good" and "evil" moving towards each other from two sides of the country (edged on by the "Devil") to face off towards the end of the book. Does this sound familiar? I don't think The Stand has a little girl, Swan, who can create crops from nothing – but there you have it. That's just about the whole story only then it's told in 34 hours.
The narration of the audiobook made the whole experience worse. The voice actor changes accents for the characters and when one of the characters shouts he makes the sound as if his throat is clenched shut. There are characters who shout a lot and it really got on my nerves after a while.
I managed to finish the book, but I will not read anything by this author again.
Emma Flint – Little Deaths (2017)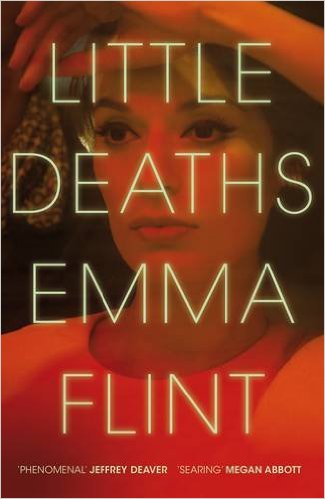 What is the point of this book?
No, just no. This book came to my attention because it was longlisted for the Bailey's Women Prize for Fiction 2017. I decided not to read it when I saw how low it was rated on Goodreads. I should've stuck with that. Instead, I found a deal on Audible and I purchased it.
This story is a mix-bag of all sorts of things. It's told from the perspective of a Ruth Malone, a woman who is the main suspect in the murder of her children, and Peter, a useless character who plays a journalist. Well, he is one until he's fired. Does it matter? Not really.
Why do we get two-points-of-view? I don't know. I think it might be because everyone involved in the investigation of the murder case has their minds made up that the mother is guilty. She always has make up on, she's always well-dressed, she sleeps with men, and she drinks. So, she must be a bad mother & a killer. The story takes place in New York in 1965. A similar case actually happened in real life and I can tell you how infuriating it is to listen to all the men pass judgement on her. The journalist is probably brought in to shed a light on her "real" character – otherwise we would only be hearing from her (an unreliable narrator). The story is badly executed though, which creates useless and annoying side plots.
This book is actually filled with inconsequential storylines about neighbours & policemen & journalists. At the end it all rolls up to a very predicable ending (yes, she is incarcerated based on very silly evidence).
I seem to really dislike this novel, why did I continue listening to it?
I honestly don't know…
2018
All in all I have had an incredibly good reading year; both quantitatively and qualitatively. Also, I have discovered authors I would love to read more from next year.
* Kristin Hannah & Angie Thomas are obvious because their books were my favourites of the year. Luckily, 2018 will see them both publishing a new book.
* Dot Hutchinson's The Butterfly Garden was another one of my five-star rated books, so I would like to pick up the sequel of that book next year.
* I want to continue with Sarah J. Maas' Throne of Glass series. I have reached the second book, and I love it.
* I want to finish V.E. Schwab's Shades of Magic trilogy, since I liked the first book.
I'm taking part in quite a few challenges next year, including the Popsugar Challenge, and my plan is to read 75 books. This would definitely be my all-time record, so let's see if it's possible.
If you have any books you would like to recommend, please let me know in the comments!