My visit to Brunei was over in the blink of an eye. However, my impressions of its capital, Bandar Seri Begawan, will remain with me for a  much longer time. I have written this post to give you an impression of the city & of what a one-day itinerary could look like.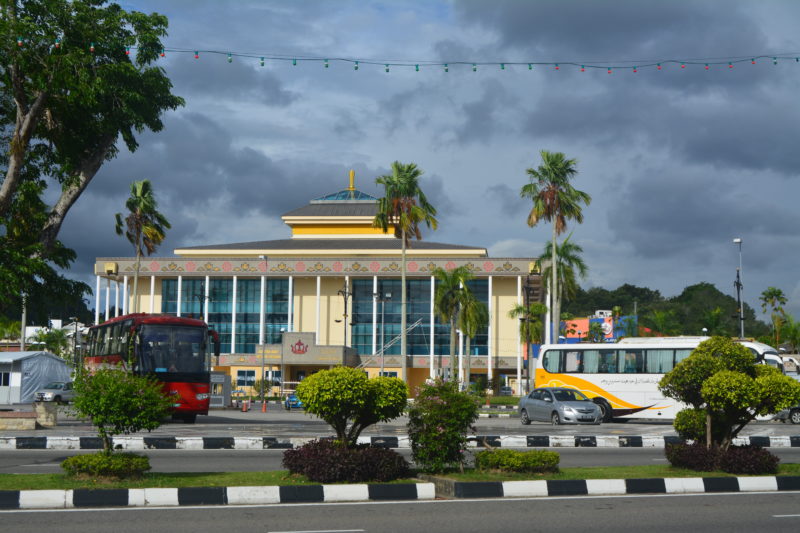 Arrival
I flew from Kuala Lumpur, where I also stayed for a short time, to Bandar Seri Begawan (BSB) with Air Asia. The last time I had flown with them was a long long time ago, when I visited Singapore with friends. Nevertheless, I found the airline to be exactly as I remember it. A simple no-frills low-budget airline in Asia.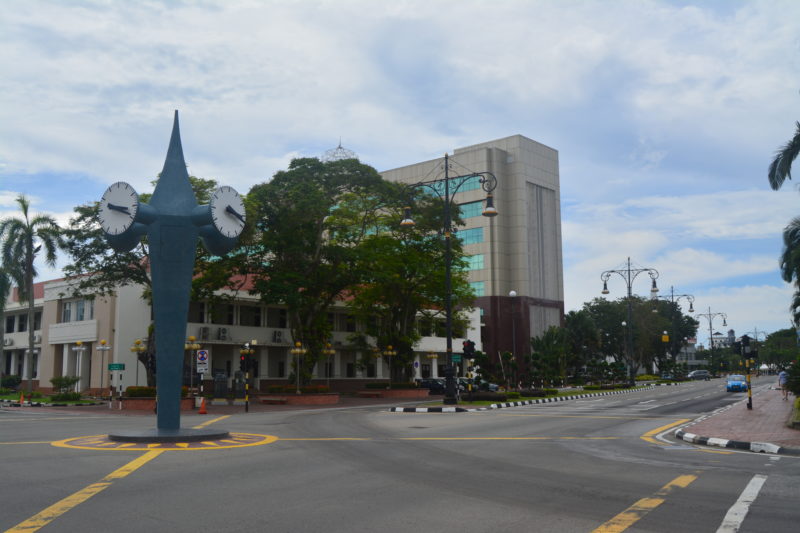 I think this was the first time that someone held up a sign with my name when I arrived at the airport. Not having to search for a taxi or public transportation at airports is definitely something I could get used to, although this is the first pick up in at least ten years of travel, so I probably shouldn't get my hopes up too much. The transfer was arranged by my hotel, Capital Residence Suites. This hotel will go down as one of my favourite hotels of this trip because of the pick-up and drop-off, the free shuttle service to various sights and because I had a whole apartment to myself!
One Day Itinerary
I have the feeling that most people who plan a trip to BSB, will be looking at visiting the sights on my itinerary. There aren't many other sights, so one day is actually sufficient. Two of the sights you can't reach on foot, the others are all in the city centre. For the other two, I was lucky with the free transfer that my hotel offered. Otherwise, taxis are a necessity.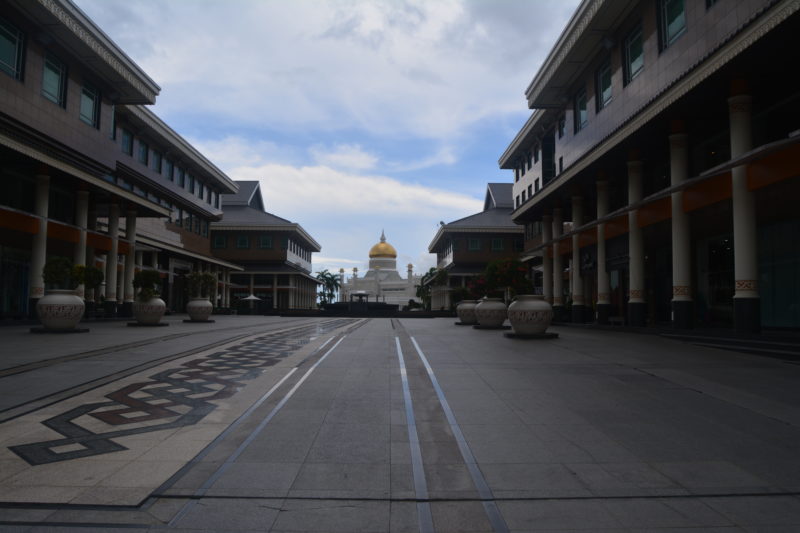 Jame'Asr Hassanil Bolkiah Mosque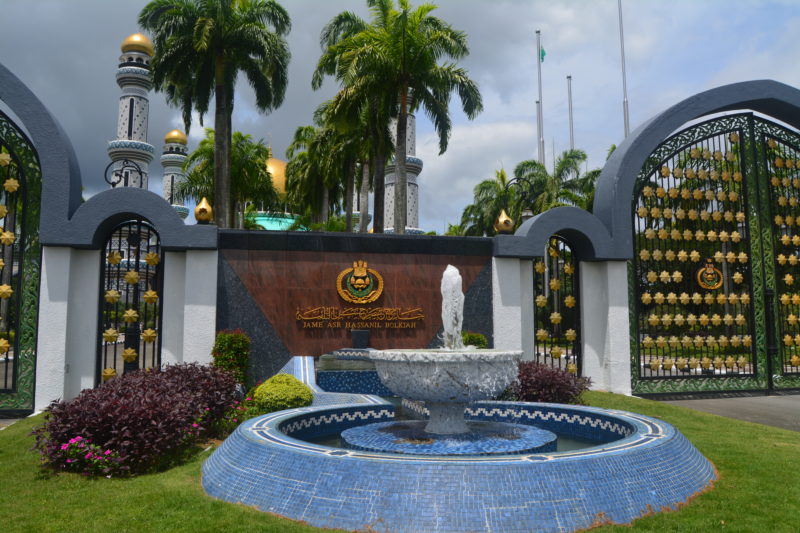 The first sight I visited was the one farthest away. I saw this mosque when I drove in to the city from the airport and I couldn't wait to visit it. Jame'Asr Hassanil Bolkiah Mosque is extremely beautiful. It was built in 1992 to celebrate the 25th of the current sultan's reign. It's the largest mosque in Brunei.
The mosaics on the outside are gorgeous, but it's also worth taking a peek inside. The entrance is slightly hard to find…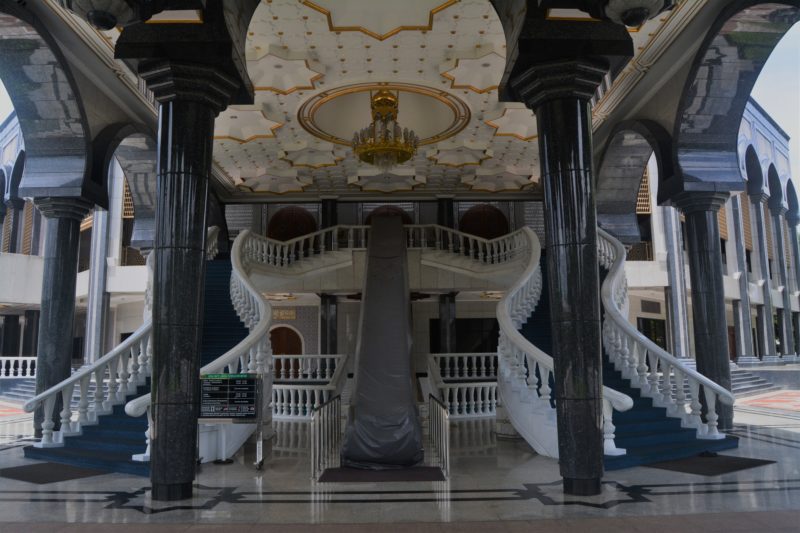 You have to kind of loop around the front of the mosque where the main entrance is.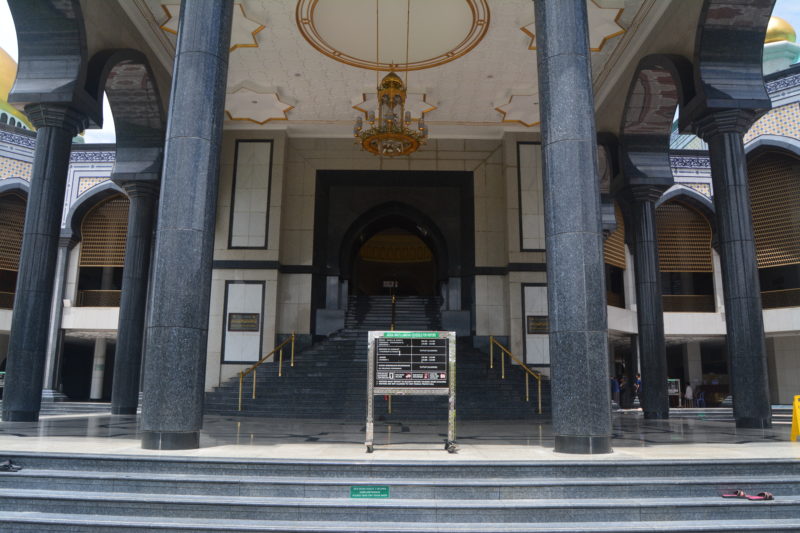 There are people sitting there to sign you up and to provide you with a shawl to cover-up.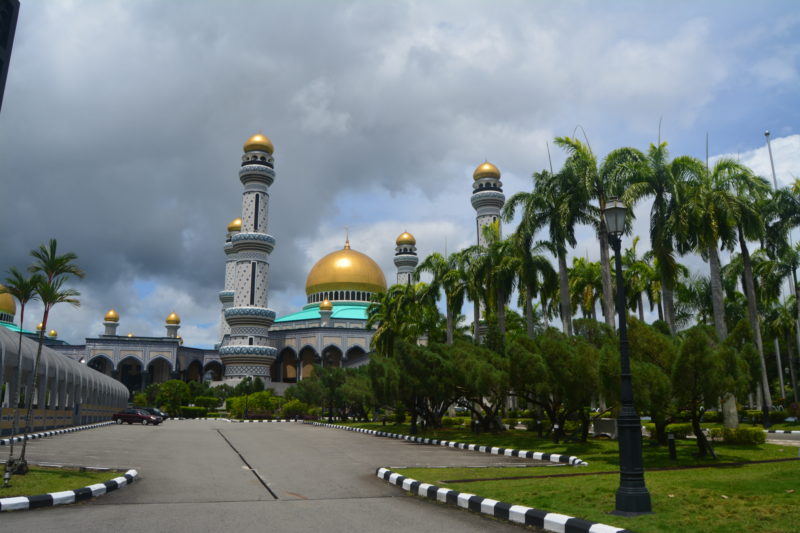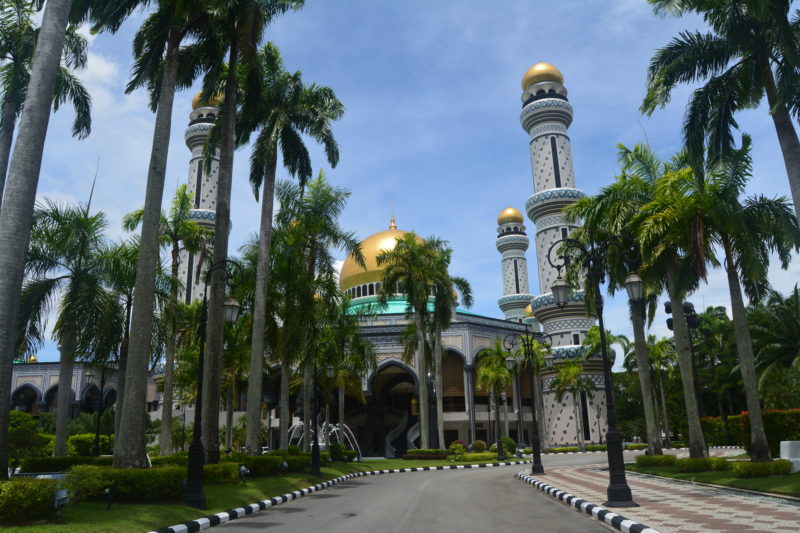 You're not allowed to take photos inside, but just take it from me that it's worth a visit.
Istana Nurul Iman
After my visit to the mosque, I had to wait a while for my transfer so I killed some time in the supermarket. I always like browsing through supermarkets. The supermarket in Brunei reminded me of the supermarkets in Abu Dhabi with mainly food from other countries.
The next stop on my itinerary was a "photo stop" at Istana Nurul Iman, which is the official residence of the Sultan. It's one of the largest habitations of any sort in the world – for example, it's more than four times the size of the Palace of Versailles. However, most of the building is hidden away behind large gates and daunting security.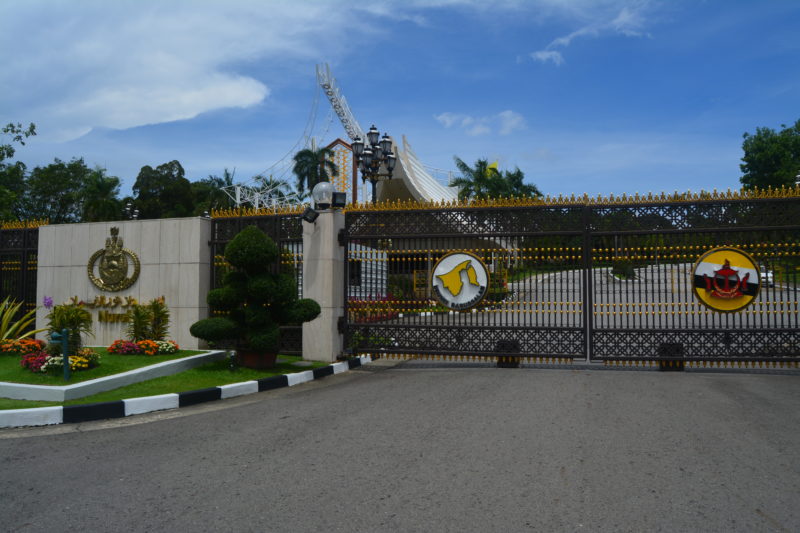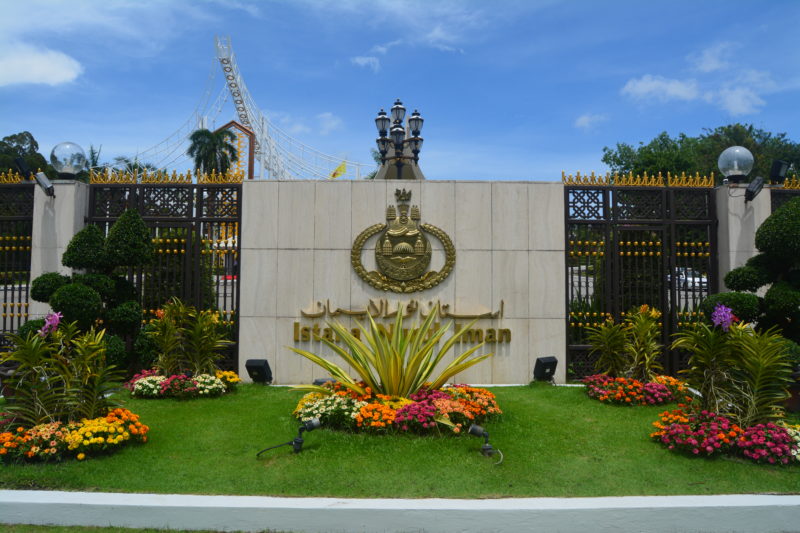 The only way to get an idea of the size of the palace is to visit during the three-day Hari Raya Aidil Fitri festivities at the end of Ramadan.
It is said that you can see it from the water, but I only saw bit of a dome sticking out from the trees.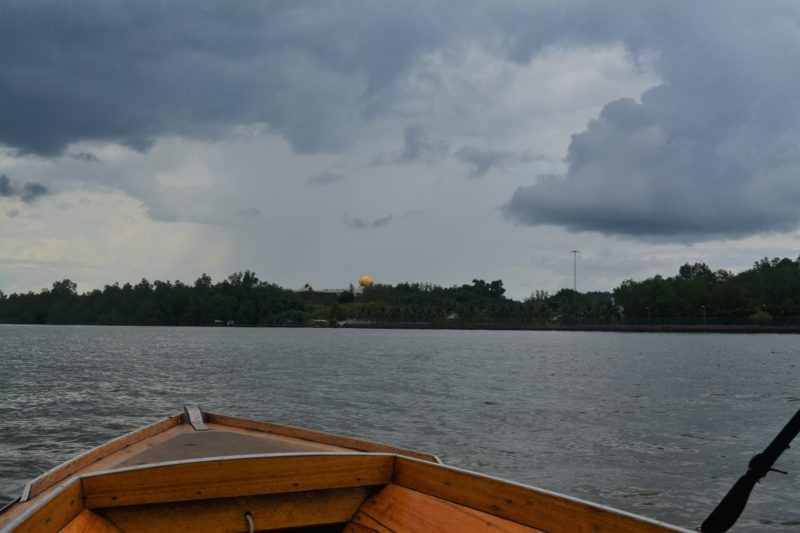 Omar Ali Saiffudien Mosque
The next few sights were in the city centre, so a taxi is not necessary anymore.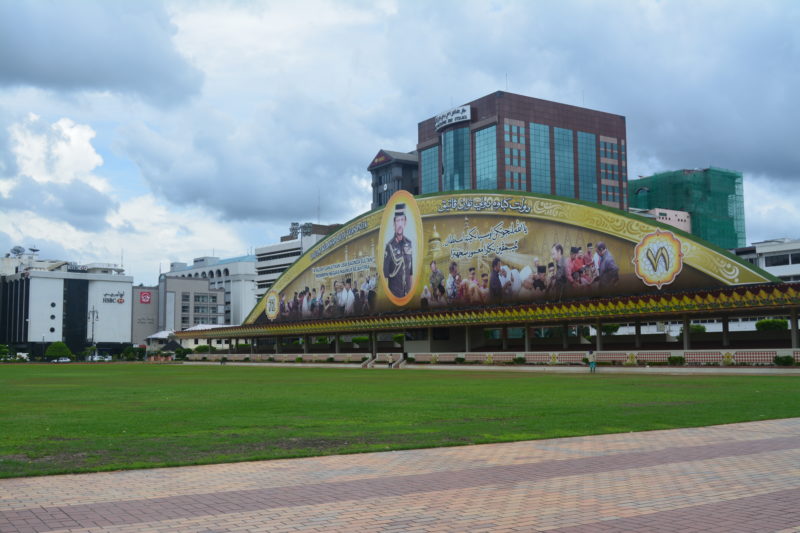 Omar Ali Saiffudien mosque was completed in 1958, and is named after the father of the current sultan. The exterior and interior are once again lavish.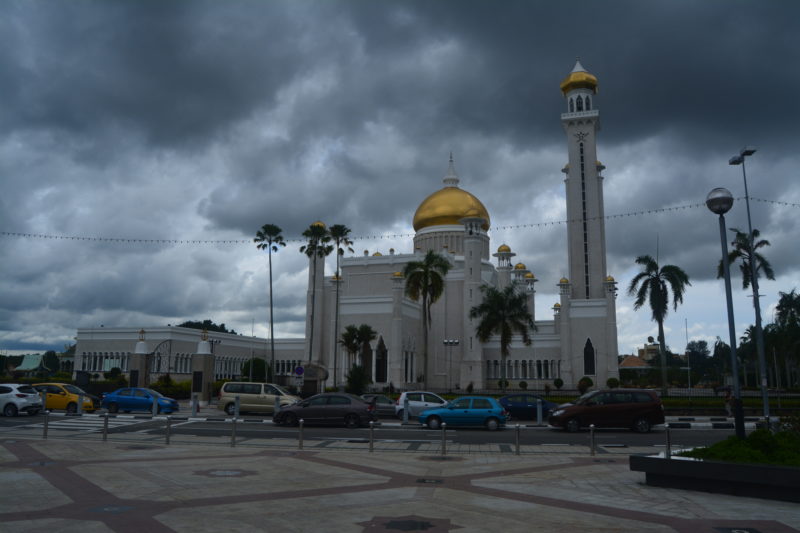 There's a ceremonial stone boat sitting in the lagoon next to the mosque which is a replica of the 16th century royal barge.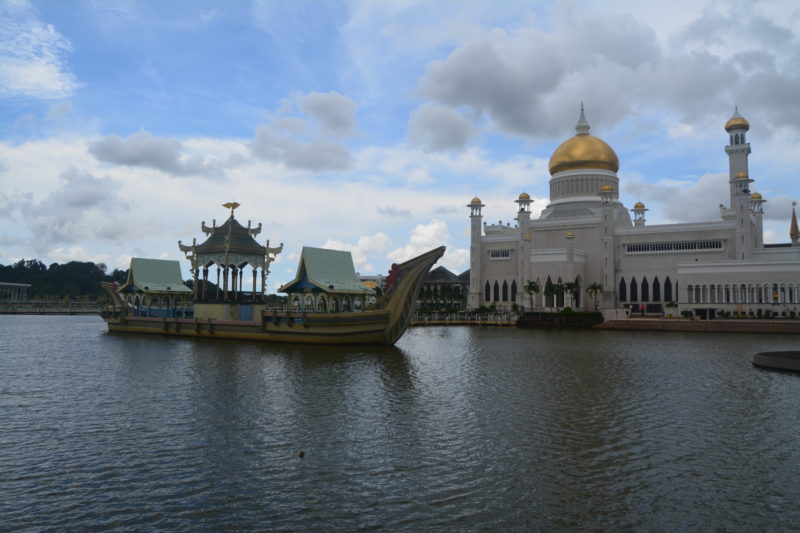 Kampong Ayer
For my penultimate sight in Bandar Seri Begawan, I stepped outside my comfort zone. At first I wanted to book an expensive tour to Kampong Ayer, but then I figured I should do what normal travellers do. Just go to the dock, and see what happens. There are hardly any tourists in the city, so it was just me and countless boatsmen trying to get me on their boats. I must say that that's a great bargaining chip, but also slightly daunting.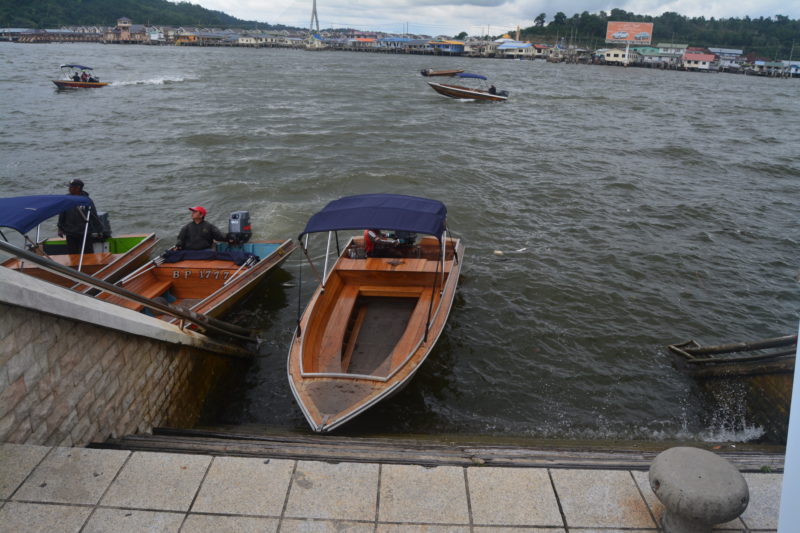 I bartered with a young guy, while a local lady was getting onto a boat. That's how I managed to get the price down by half. The boatsman had to leave to drop the girl off, so if he would take me for a quick tour it would be a good deal for him.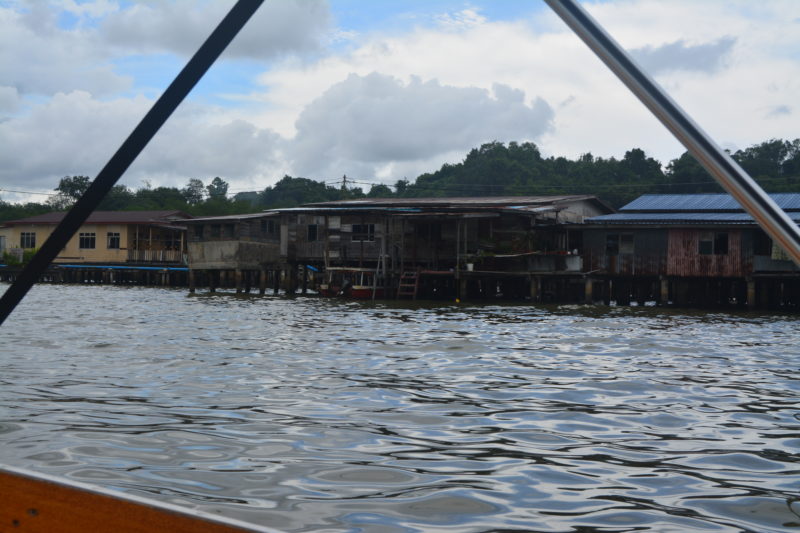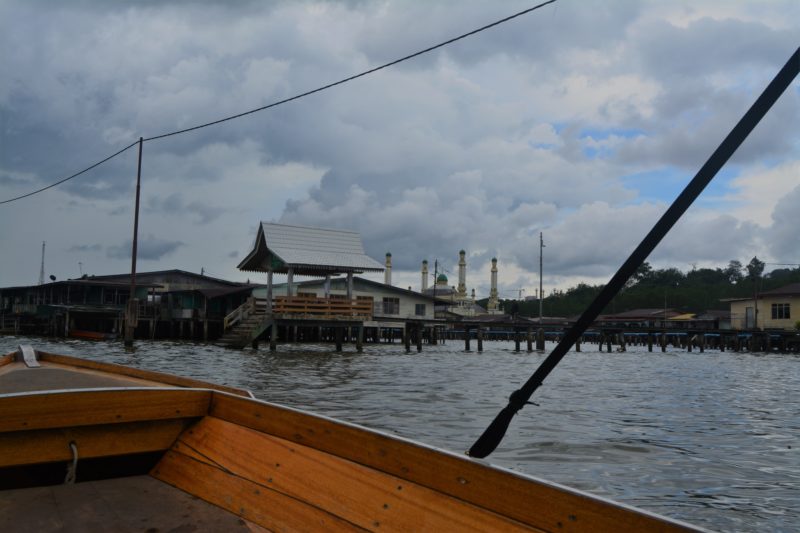 That's how I ended up proud and content in a tiny boat, with an equally happy man who couldn't wait to tell me all about the village. Kampong Ayer means water village. There are many in Malaysia and Brunei, but this one is quite large. It's home to around 30,000 people. Many people prefer to live in the water village rather than on dry land.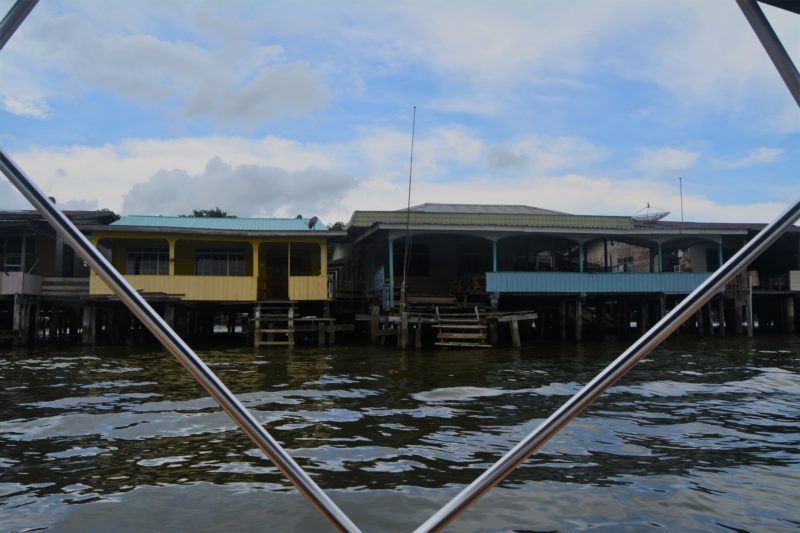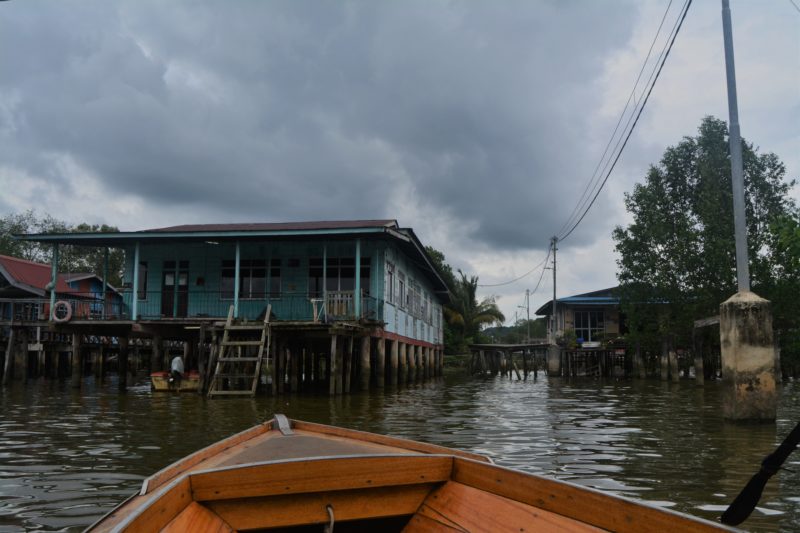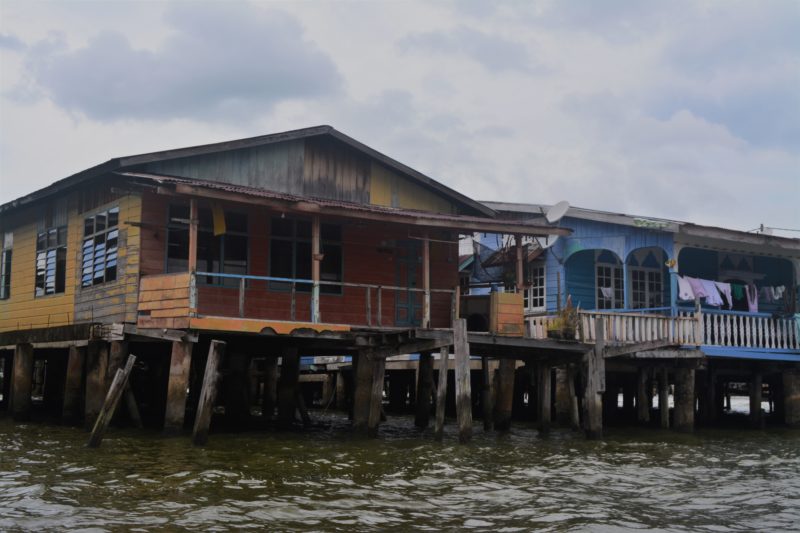 The village has everything. Its own schools (many, since every ten minutes my boatsman pointed out a school to me), police stations, and even a fire brigade. The fire brigade made me chuckle, but the boatsman pointed out that even though they live on the water; the buildings are made of wood and burn easily.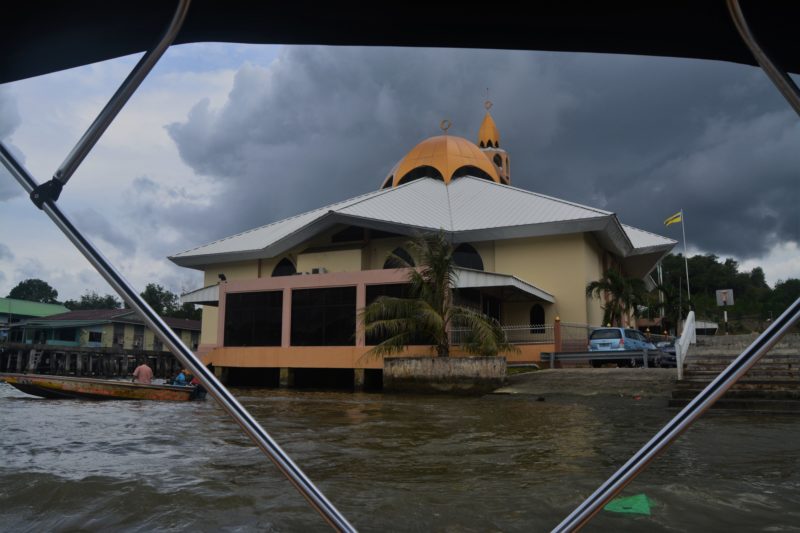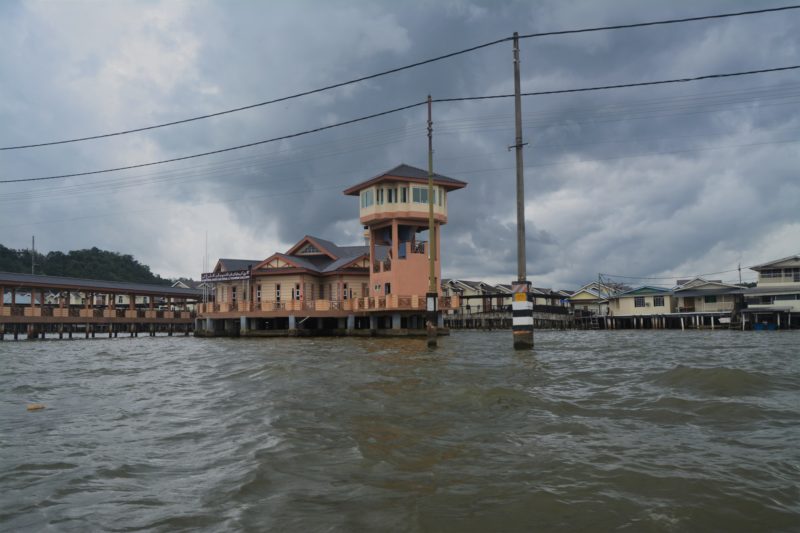 Kampong Ayer has been dubbed Venice of the East, which I think might be slightly far-fetched. However, I still loved taking the boat around the village. It would also have been possible to get dropped off there so you can explore the village on foot. There's a visitor centre if you'd like to learn more about the village.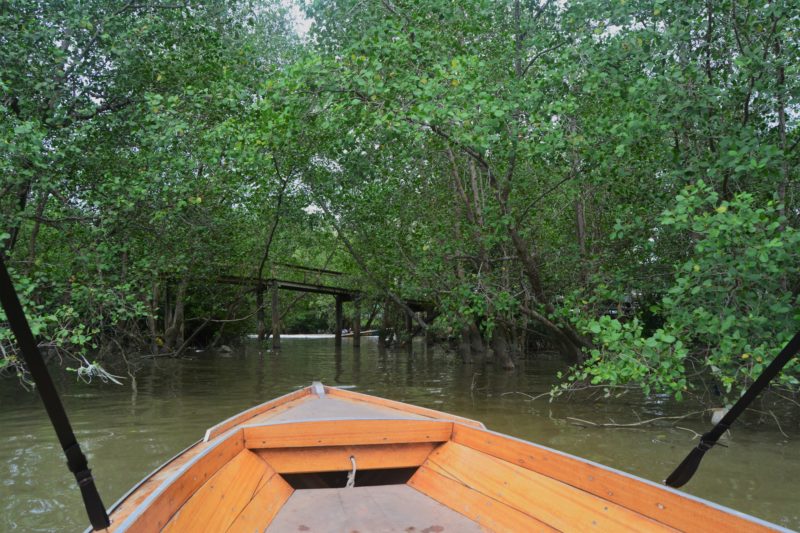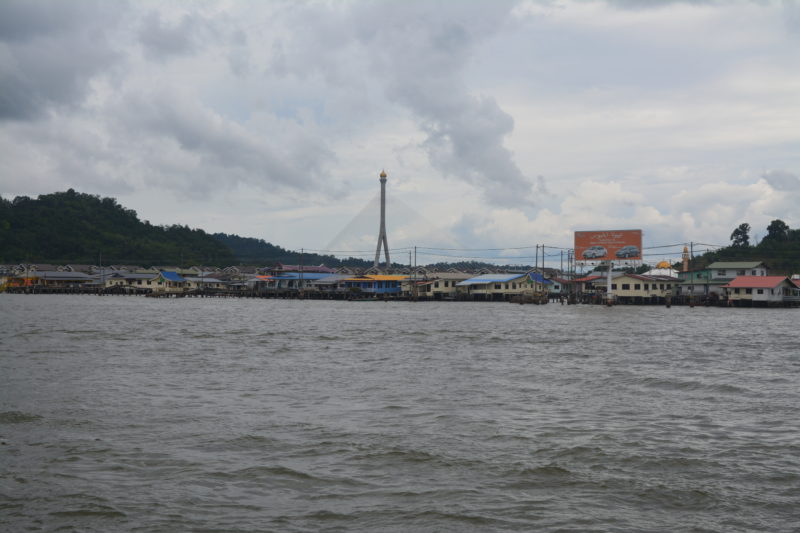 Another possibility is to take a longer boat trip to the mangroves, where you might spot proboscis monkeys. I already booked a hot date with these monkeys near Kota Kinabalu, so for me the boat ride through the village was more than enough.
Royal Regalia Museum
My last sight was also my favourite sight in Bandar Seri Begawan, namely the Royal Regalia Museum. My expectations of this museum were so incredibly low, and the only reason I entered was actually because I was looking for a place to cool down after spending hours sweating outside.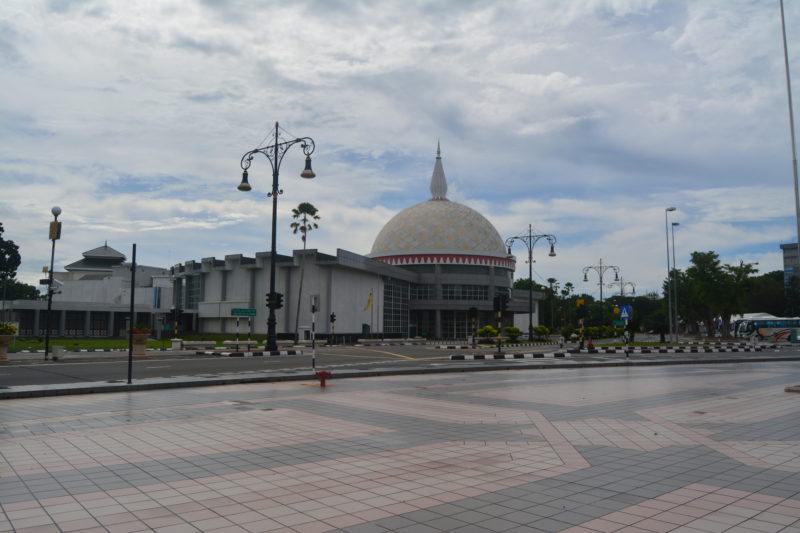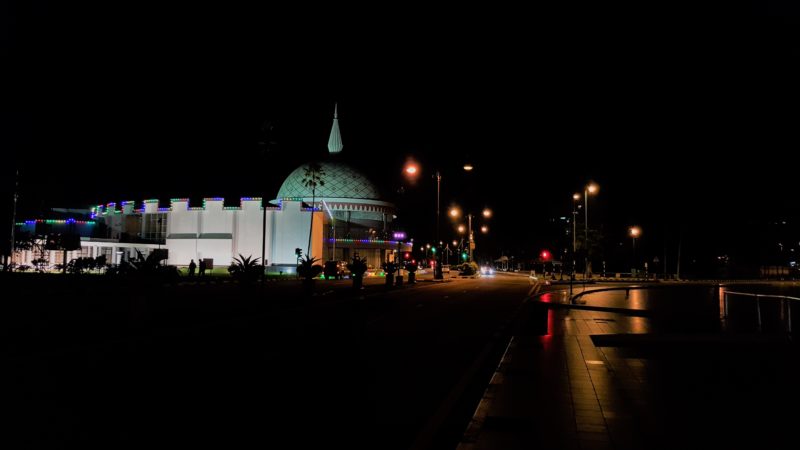 Boy, was I mistaken about this museum! The first things you see inside are the sultan's childhood photos, which are very entertaining. It's like browsing through someone's personal photo album.
Then you reach my favourite part; countless hallways filled with gifts. The sultan has used this museum to store all the gifts he received from other countries. It's surprisingly funny to see what the heads of countries come up when they are bringing commemorative gifts. For example, Thailand has gifted many (MANY) elephant statues, Cambodia has gifted a small replica of Angkor Wat, Senegal has gifted a lion statue, and almost all countries have given the sultan jewellery at some point. I can highly recommend this place even if (like me) you're not a fan of museums.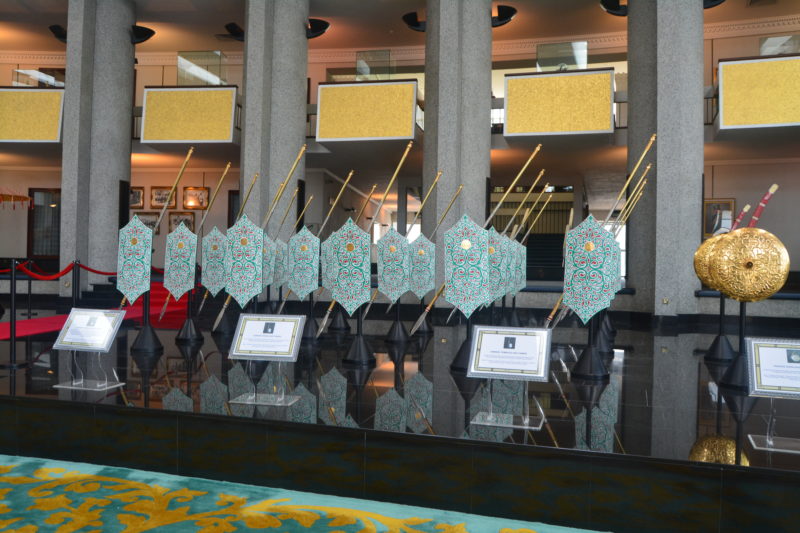 Where to Eat
I can't tell you much about places to eat, because I only tried one restaurant on my first day there. I went to Kaizen Sushi by the waterside which has (as the name suggests) a lot of sushi. I really enjoyed eating there and even though I don't have much comparison, I do recommend it.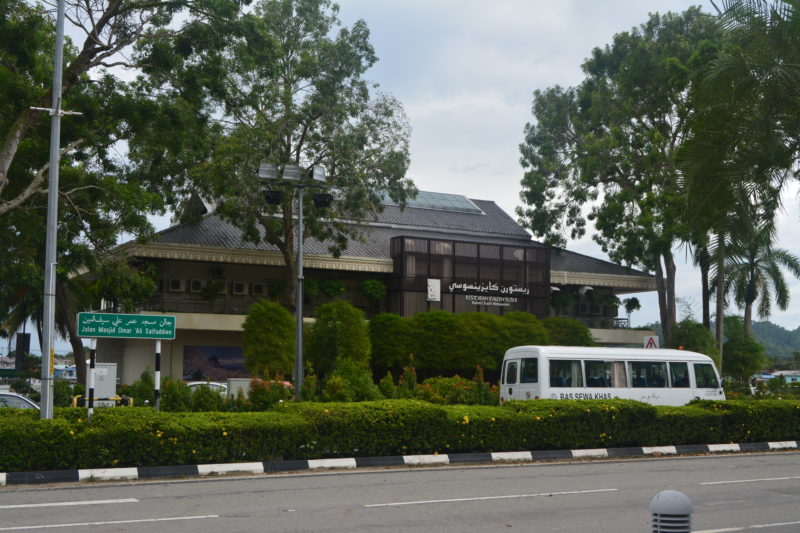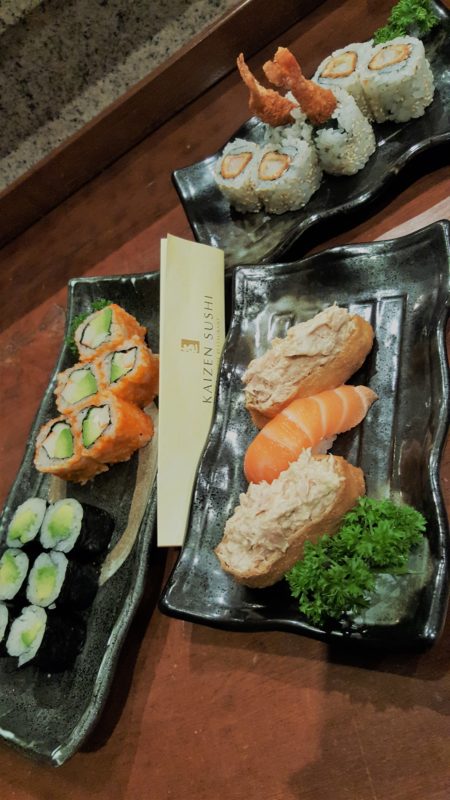 Conclusion
Bandar Seri Begawan is a surprisingly nice city. I was a bit apprehensive, but I found it to be quite similar to cities in the Middle East in terms of  the friendliness of the people, the clean streets & the gorgeous mosques. It's completely different from the other towns on Borneo, so that already warrants a visit. If you have more than one day, you could also check out the original rainforest of Brunei (Ulu Temburong National Park). I didn't have time for that this trip, but I'm curious to hear what it would be like.